All seasons are great in Virginia Beach and fall and winter are no exceptions. There are so many Christmas events and activities going on that we hoped an article detailing some of the favorites would make your holiday planning a little easier.
An advantage for beach goers for fall and winter holidays in Virginia Beach is that there are less people on the beach due to the dropping temperatures. If you are a beach nut or winter surfer, you have more of the beach to yourself,…which is a luxury to enjoy.
Christmas is a wonderful time of the year to be along our shore taking in the sites and getting into the holiday spirit.
Here are some of the favorite local Christmas events and activities in Virginia Beach: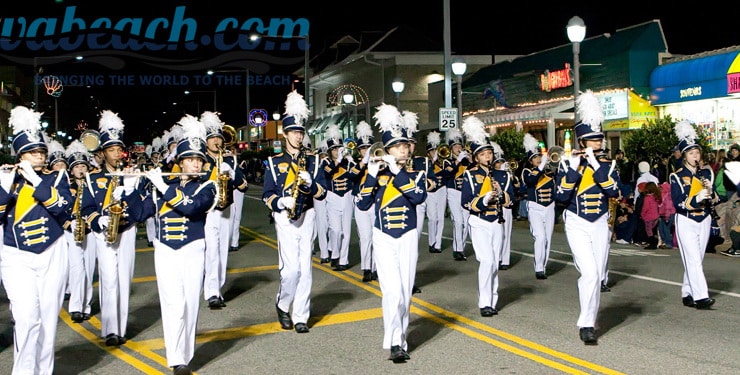 Almost 90 parade units will make their way down Atlantic Avenue in a joyous celebration of the holiday season.  Giant balloons, marching bands, lighted floats, fire trucks, performing dance groups, motorcycles, and more join forces to present a dazzling and entertaining night of fun for all ages!
And, best of all, Santa himself makes a grand appearance to greet all his loyal fans as the evening winds down and thousands of families take the opportunity to enjoy the beautiful Virginia Beach oceanfront!
The parade will travel North on Atlantic Avenue from 15th Street to 25th Street.  The reviewing stand will be located at 25th Street and Atlantic Avenue. Everyone loves a parade so make sure if you in town you check out this year's parade. It's the perfect family event year after year.
---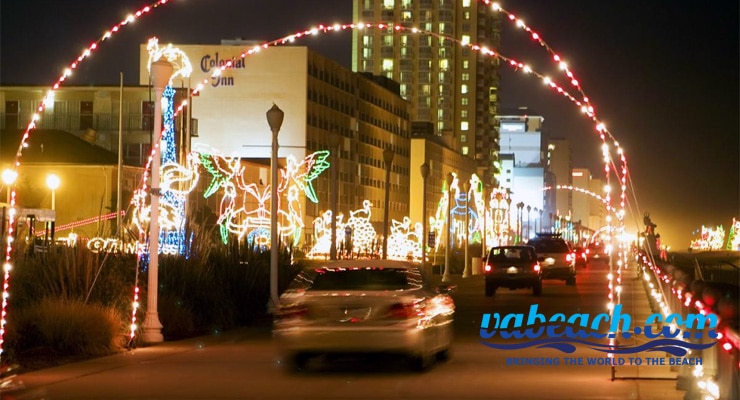 BayPort Credit Union Holiday Lights Merry Mile is a holiday tradition that brings joy and wonder to Hampton Roads every holiday season! Join us this year from Thanksgiving Day through New Year's Eve. Take a shiny journey into nautical, holiday, and adventure lands – all along the beautiful Virginia Beach boardwalk. Festive fish, jumping dolphins, frolicking porpoises – all in bright, colored lights against the clear night-time sky, are the stars of BayPort Credit Union Holiday Lights Merry Mile. They are joined by Santa, his elves, and holiday displays. Drivers will be able to tune their car radio to a frequency to hear holiday music along the BayPort Credit Union Holiday Lights Merry Mile display, making it easy to see AND hear why this event has been named one of the Southeast Tourism Society's "Top 20 November Events" and the American Bus Association's "Top 100 Events in North America for 2011!" BayPort Credit Union Merry Mile opens nightly at 5:30. Hours of operation are 5:30pm-10:00pm Sunday through Thursday and 5:30pm-11:00pm Friday-Saturday. The cost is just $10 per car.
---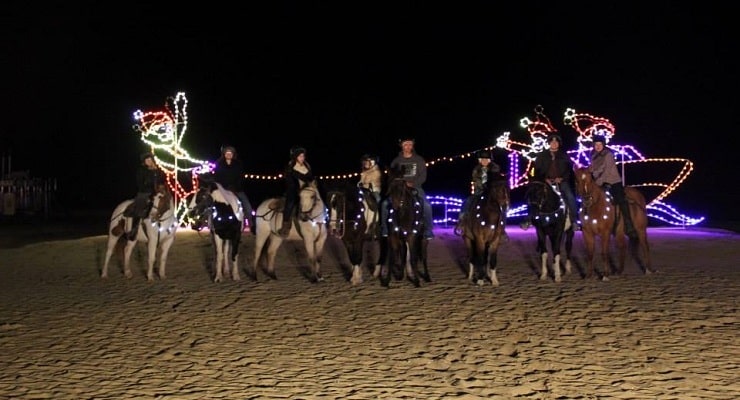 These Rides start after sunset on the beach to enjoy the Festival of Lights. They start around Thanksgiving Day and end on New Years Day. A totally unique Christmas experience is definitely horseback riding on the beach. Virginia Beach Horseback has their Festival of Light Horseback Rides for a truly memorable holiday here in Virginia Beach.
---
Runners and race fans must check out this holiday run full of santas. J&A Racing brings you the Great Outdoor Provision Co. Surf-n-Santa 5 Miler presented by Bon Secours In Motion on December 16, 2017, a Twilight 5 Miler in Virginia Beach. All of our participants will receive a 5 piece Santa Suit and will set off into a nautical holiday wonderland against the Atlantic ocean. The event is held at twilight along the boardwalk so runners can enjoy a festive evening being mesmerized by the holiday spirit. This is not your ordinary marathon and always helps everyone get into the cheerful holiday spirit.
---
Christmas is a wonderful time of the year to take in a live show. So come and share the holiday spirit for Hampton Roads military families this season. Head over to the Virginia Beach Convention Center for a lively and festive USO-style show featuring the Guava Jam Band. Parking is 100% free, and all proceeds benefit Hampton Roads military families in need during the holidays.
All donations benefit the USO and military families in need during the holidays. Get in the holiday spirit at this FREE show!
The holiday season is a great time here in Virginia Beach. The best part is that being at the beach makes everything better. Come take in the sights and breath in some of that ocean air.
Don't forget to get a Christmas family photo over near the famous King Neptune statue at 31st Street Stage/Park with the sparkling lights of the big Christmas tree in the background.
And lastly just get ready for another great holiday season in Virginia Beach. HO! HO! HO!