When the winter approaches and chilly temperatures start to arrive in Virginia Beach, the local entertainment and sightseeing doesn't stop.  In, fact, in many ways it heats up! Virginia Beach has spectacular sunsets, constantly changing and migrating species of incredible wildlife and much smaller crowds during the winter. The overall magnificence of a VB winter is ready for you to explore and discover. While crowds may be smaller on the beach, space begins filling up quickly beneath the water's surface, come the winter months. This is the peak season for some of our most popular visitors… whales! Tony Splendore, a Virginia Beach local, found that out on his first ever whale watching expedition.  Man was he impressed!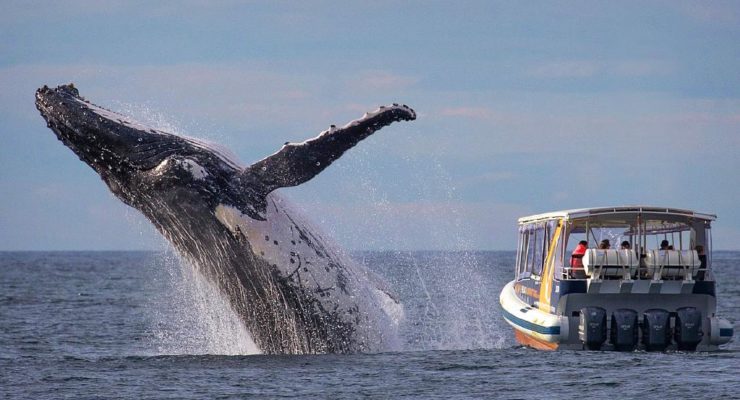 When to See the Whales
In Virginia Beach, whale watching can only be done during the winter months, usually December through March. This is because humpback and fin whales only stop by Virginia Beach's Chesapeake Bay as they migrate in winter to northern states and sometimes as far as Canada.
We like to say that whales enjoy hanging out in our coastal waters during the cooler seasons because it's their home away from home. They spend a majority of their time during the warmer months of the year in the polar regions.  But when the severe chill of the polar regions gets too much to bear, they come visit us. And who can blame them?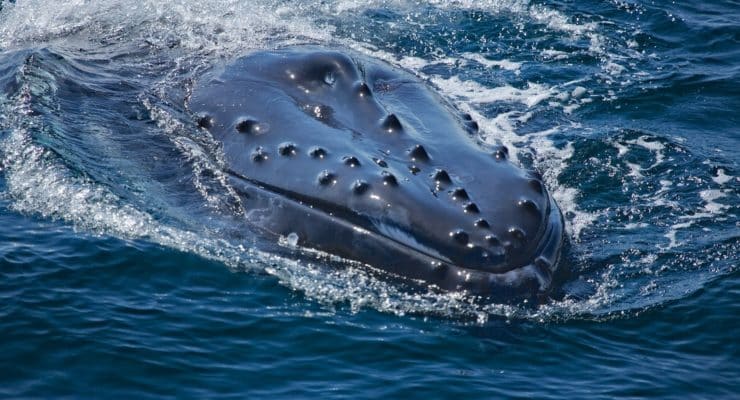 You can join in on the fun on one of the many whale-watching cruises offering opportunities to see these magnificent creatures first-hand. Book a Rudee's Winter Wildlife Whale-Watching Cruise to be led on an educational expedition along the Atlantic coast, searching for whales, dolphins, seals and a variety of species of birds. You never know what you might see, so make sure that your camera is always ready!
What to Think About Before You Begin Planning
Back in the 2009 whale watching season, planned tours and boating trips were not able to venture out into the coastal waters due to unusually severe winter weather. Bad weather is always a concern for trips to Virginia Beach in winter. Also, keep in mind that seeing a whale is never guaranteed on any boat tour… even when the weather is ideal. However, don't be completely discouraged, approximately 80 percent of visitors who participated in whale watching boat trips in past seasons saw at least one whale during their trip.
Because whales migrate based on water and air temperatures, it's sometimes hard to determine the best time for whale-watching. While the prime months for sightings are typically January through February, whales and whale pods have been spotted in large numbers as early as December. Sometimes, you can give the local tour companies like Rudee Tours a call to see if they've spotted any whales yet. If they've already been spotted in the coastal waters for the season, you're more likely to see them on an excursion because they are social animals and they like to hang around with each other!
Keep Your Eyes and Ears Peeled
During a whale watching tour in Virginia Beach, you'll likely notice other sea life, including jellyfish, turtles and dolphin.  Most whale and dolphin trips offer a bingo game in which you look out for particular signs, buoys, piers and sea life, and then mark the squares accordingly on your bingo board. Bingo winners usually earn prizes, such as temporary tattoos of sea turtles, dolphins and other marine life. If you are lucky, you also might hear the haunting sounds of whales or dolphins "singing" their melodious tune when out in the sea. Boat staff members and volunteers usually walk around the vessel showing authentic dolphin bones and other artifacts to passengers.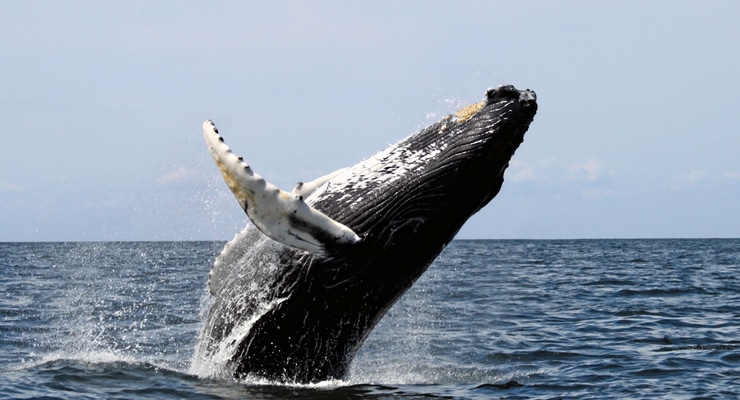 Location, Location, Location
Unlike some other major tourist destinations, Virginia Beach does not offer any large tanks like Sea World, where whales or other high-energy or large marine life animals like dolphins are held in captivity. Your only chance to see a whale or a pod up close is to book a whale watching boating trip. You can book your tour through the Rudee Tours.
Being located a few hundred yards inside the Inlet from the Atlantic Ocean, you are on the search for dolphin within 3 minutes of leaving the dock aboard the Rudee Flipper. The Rudee Inlet location is arguably the best location in all of Virginia Beach, and is also the only Inlet like it on the whole East Coast! Rudee Tours is docked at the Virginia Beach Fishing Center alongside the Largest Charter Fishing Fleet on the East Coast. Our fishing friends believe in our mission and devotion to the ocean so much that they not only often ride along with us, but also send along any sightings that they may see, just to ensure we get you to the animals as quickly as possible.
Alternative Tours and Sea Life
If you can't make it to Virginia Beach during the winter months, try dolphin watching during the other seasons. Dolphin watching tours are offered from April through October. Inclement weather is far less likely to prohibit these trips. Additionally, you also might consider a dolphin kayaking journey in the Atlantic Ocean through Surf and Adventure. This locally-owned tour company offers a number of kayaking tours suitable for all levels of fitness and conditioning. While people are recommended to be over 18, children of any age are welcome with an accompanying parent. Tours include basic paddling lessons and are offered year-round, as long as the weather cooperates.
If you are lucky enough to capture one of these stunning animals on camera, let us know by sharing your photos on social media at our FaceBook Page.