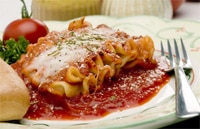 That's some-a spicy Italian meatball!
I have lots of friends who live and work in New York City and when they visit Virginia Beach I love taking them to our amazing Italian restaurants. None of them thought they could get good Italian food outside NYC. Now, I'm not sure whether they are coming back to see me, or to eat! Virginia Beach has every option that you can imagine.  We have the corner Pizza shops that can serve you a "slice of pie to go"… and we also have formal dine-in Italian Restaurants that would please even the entire Soprano family!  We even have buffet style Italian and Pizza Restaurant so that you can try everything from the Lasagna, to the Spaghetti and meatballs or even the Chicken or Egg Plant Parmesan.
Look around and decide for yourself which Italian Restaurant is the best!  We have plenty so take your time and enjoy it!