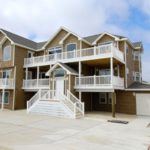 If you've got a large group and you want the place all to yourselves, a Virginia Beach Vacation Home Rentals are the choice for you. While there are many houses for rent in the Virginia beach boardwalk and resort area, you will find most oceanfront home rentals just south of the resort area in Sandbridge or just north of the oceanfront from 50th to 80th street.  you can even go as far south as the Outer Banks and Corolla in North Carolina if you really want to get away.
Beach home rentals allow you to rent an entire home and enjoy your vacation in private with your friends or family.  Since many beach home rentals are not near the busy and crowded Virginia Beach main oceanfront, you normally have acres and acres of beach to play on so you can spread out and relax. Many beaches where the rentals are even allow campfires.
Additionally, since most beach home rentals are rented by the individual owners or by property management companies, you will need to find most beach home rentals by viewing our preferred real estate companies.