Virginia Beach Events -
Music and Concerts
The Virginia Beach Craft Beer Festival, having outgrown the 24th Street Park, has moved to a huge tent on the beach! The Virginia Beach Craft Beer Festival, held from 1:00pm-6:00pm each day, has convenient parking at the 31st Street City Garage and i...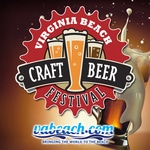 This unique Halloween event takes place in the Town Center of Virginia Beach at the award-winning Sandler Center for the Arts. Dress up in your favorite Halloween costume and join Robert Shoup and the Virginia Symphony Orchestra for a ghoulish aftern...
Where else can you see traditional Indian and Bollywood dances, get fancy henna patterns inked on you, peruse Indian fashion and jewelry, and eat fresh samosas that are cooked right in front of you? At the annual India Fest, hosted by The Asian India...