Alcoholic Beverages and the Virginia Beach Alcohol Policy
Virginia Beach has a strict alcohol policy. Virginia's Alcoholic Beverage Commission operates liquor stores in Virginia Beach (called ABC Stores), where a variety of liquors and Virginia wines are sold. Grocery and convenience stores carry beer and wine. One must be 21 years of age to buy wine, beer and liquor.
Licensed premises can serve until 2 a.m..
Off-premises establishments, like convenience stores, can sell until midnight.
If you want to purchase liquor in the state of Virginia, then you need to visit an ABC Store (Alcoholic Beverage Control Store).
If you want to purchase beer or wine in the state of Virginia, then you need to visit grocery store, convenience store (ex: 7-11 Store) or a designated beer and wine store (like Total Wine).
Carrying an unsealed or open container of alcohol in public or in an auto is illegal.  Virginia Beach is very strict regarding the open container laws.  Police will patrol the streets and beaches searching for alcoholic beverages.
According to a database of state Supreme Court records, in 2013, over 228 people were charged with having glass or alcohol on the beach. They all faced fines. Virginia Beach tries to keep the beach and its impression clean for families.  Yet even in a family-friendly area with a ban on cursing (that's right, no swearing on the beach), ice-cold beer cans hidden in cozies or coolers are an open secret. You can also get ticketed for bravely going nude. A small handful of people were ticketed up last year for being nude on the beach, according to the Supreme Court database.
To avoid ruining your vacation, don't take any chances. Forego the booze on the beach, keep your birthday suit covered, and follow the beach rules. Nothing to get hung over about 🙂 Click here to see more Beach Rules and Water Safety or if you want to read a little bit more about the alcohol policy in Virginia Beach you can view the question on our Ask A Local section:
What is the policy with alcohol on the beach?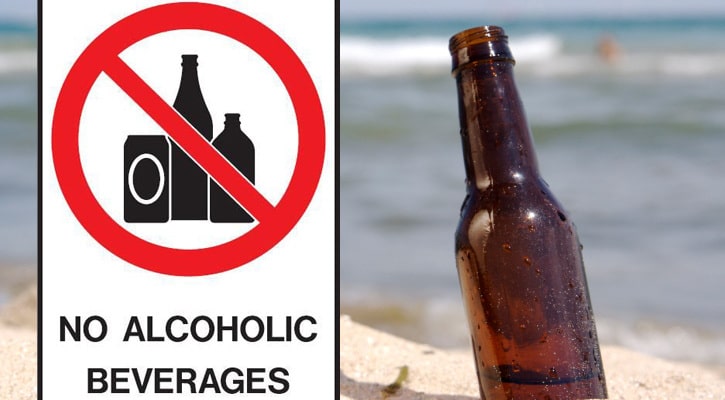 Events
Now to the end of November 2019
Sat 23rd
Sat 23rd
Sun 24th
Thu 28th
Sat 30th
Sat 30th
Events in December 2019
Fri 22nd – Tue 31st
Sun 1st
Thu 5th – Sat 14th
Sat 7th
Sat 7th
Sat 7th
Sat 7th
Sun 8th
Fri 13th
Sat 28th