Julz Gat
About the Band
Category:
DJ
Music Genre:
70's, 80's, 90's, 90's Rock, Acoustic, Acoustic Rock, Blues, Caribbean, Classic, Classic Rock, Cover, Dance, Disco House, Dub, Electro, Electronica, Experimental, Funk, Funky, Fusion, Guitar, Hip Hop, House, Indie, Light Rock, Lyrical, Mashup, Motown, Musician, Old School, Original, Originals, Progressive House, Psychedelic, Punk, R&B, Rap, Reggae, RnB, Rock, Singer, Ska, Soul, Southern Rock, Surf, Techno, Top 40, Top 40 Hits, Top 40's, Top 40's Dance, Trance, Tropical, Tropical-caribbean, Turntablism, Variety
Julz Gat is a Dj and Musician that can mix, or play live, an assortment of cover songs and original compositions, specializing in on-the-fly, impromptu compositions in an array of different genres. Based out of Virginia Beach he is one of the most sought after musical entertainers in Hampton Roads due to his impeccable crowd reading and ability to rock any crowd, his absolute passion for his craft, his desire to learn new techniques and master the ones he utilizes, and professional level of music and business has gained him many clients in which he has provided entertainment for throughout the 757 and RVA. Julz Gat Entertainment is very family and community oriented and helps out with, provided music for, and donates to charity events such as the CHKD, Susan G. Komen, Make a Wish, Va Fallen Heroes, and many more.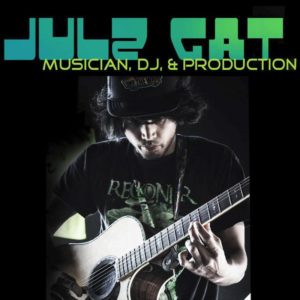 or call 757-460-9000

Where They Are Playing
Oh Snap! We do not know of any live music events where this band is playing.