Little Island Park (Sandbridge)
Upcoming Major Events at Little Island Park (Sandbridge)
These are major events that draw hundreds or even thousands of people to Virginia Beach each year. They are events that you definitely want to think about when you are planning your vacation.
| Event | Date/Time | Event Type | |
| --- | --- | --- | --- |
| No Major Upcoming Events Found at Little Island Park (Sandbridge). Check back later or below for more information. | | | |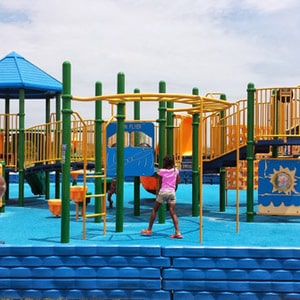 Little Island Park is a 144-acre beach park in Sandbridge, just north of Back Bay Wildlife Refuge.
The park has a 775-foot beach north of the 400-foot fishing pier for surfing and a 2,000-foot beach for swimming and fishing south of the pier. Back Bay, a brackish lake, provides excellent fishing and crabbing along the western border of this unique park.
Highlights:
Four Picnic Shelters with Charcoal Grills
Picnic Area with Charcoal Grills
Lighted Tennis Courts
Basketball Courts
Volleyball Court and Beach Volleyball
Playground
Canoe/Kayak Launch Area on Back Bay
Public Restrooms
Seasonal Rental Items: kayaks, paddleboards and fishing poles. Items will be available beginning Memorial Day Weekend.
Seasonal Concessions
Vending Machines
Public Use AED
The following items can be checked out of the park office with a driver license or other form of photo identification:
badminton equipment, basketballs, baseball bats, corn hole boards and bags, footballs, frisbees, rubber playground balls, soccer balls, volleyballs, volleyball nets and beach wheelchairs.