Treasures of the Earth Gem, Mineral & Jewelry Show
Date/Time
Venue/Location
Mar 8 - 10
10:00am - 5:00pm

THIS SPECIFIC EVENT INSTANCE EITHER
DOESN'T EXIST OR HAS ALREADY OCCURRED

Jul 19 - 21
10:00am - 5:00pm

THIS SPECIFIC EVENT INSTANCE EITHER
DOESN'T EXIST OR HAS ALREADY OCCURRED

Oct 11 - 13
10:00am - 5:00pm
Ticketing Information:
$5 for adults, 16 and under free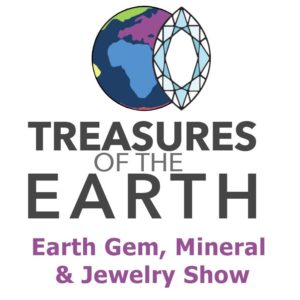 A great show for anyone looking for a unique and exciting display of minerals and gems!

---
EVENT DESCRIPTION
Brought to you by Treasures of the Earth!  Check out their website for more beautiful assortments of gems and minerals!
This show has something for everyone! Vendors from across the United States bring their merchandise to you.
Their items include:
14K and sterling silver, classic, estate, fashion and handmade jewelry
Loose stones, beads and findings, pearls, lapidary supplies
Crystals, mineral specimens, art jewelry
Jewelers and wire wrappers who can design, remount and set stones and make repairs
Display of Virginia rocks and minerals, lapidary arts demonstrations and geode cutting by the two Gem and Mineral societies of the area
Gemologist available for on-site appraisals
SHOW HOURS:
Friday: Noon-6pm
Saturday: 10am-5pm
Sunday: 10am-5pm
See More Details on their Facebook Events Pages below:
---
---
EVENT SPECIAL NOTICES AND INFORMATION
PHOTOS
WHAT'S NEW