Virginia Beach Basic Rules & Regulations
Virginia Beach is a great place to vacation, but occasionally a few bad apples can ruin a good time for everyone.  Knowing what you can and cannot do is important.  The city of Virginia Beach wants everyone to have a great time, so basic laws and regulations have been put in place to make sure that everyone is safe and can enjoy themselves without incident.
Many Laws can also be explained in more details by visiting the City of Virginia Beach Code of Ordinances.
Specifically, we recommend reading Virginia Beach Code of Ordinances – Chapter 6.
Visit our ASK A LOCAL section for answers to other beach questions.
HERE ARE SOME BASIC RULES AND TIPS TO ABIDE BY:
IMPORTANT NUMBERS
[table id=importantnumbers /]
URGENT CARE
[table id=UrgentCare /]
HOTEL CHECK-IN TIPS
Staying in a hotel is the most popular form of lodgin in Virginia Beach.  Make sure you abide by these rules/tips and make it easy on yourself.
Identification:
Make sure you have a valid photo ID – it's required at registration desks throughout hotels in Virginia Beach  The hotel will need to make a copy during check-in.
Use Your Proper Name:
It's unlawful to register in any name other than your own legal name.
Register All Room Guests:
All occupants and guests staying in your room(s) must be registered at the front desk.
No FREE Guests:
Hotel rates are quoted for a specified number of adults. There is a charge for each additional person and maximum occupancy rules will apply.
Facilities are for Registered Guests:
The use of the hotel rooms and hotel facilities is limited to registered occupants only.  Abiding by this rule helps keep swimming pools, vending areas, restrooms, parking lots and garages available for your use. You paid for them.
Alcohol In Hotels… 21:
You must be at least 21 years of age to consume, possess or buy any form of alcohol… beer, wine and liquor. You may not carry open or unsealed alcohol in public places or in vehicles. This is a Virginia State law.
Registrations Are Required and Binding:
Hotel Registrations are required and an agreement to comply with hotel regulations.
LIFEGUARDS
Lifeguards are on duty from 9:30am-6pm daily from mid-May to mid-Sept. between 1st and 41st Streets and at Camp Pendleton, Croatan, Sandbridge & JEBLC Fort Story beaches. In May and September their hours and patrols are limited.
MORE ABOUT LIFEGUARD LOCATIONS AND HOURS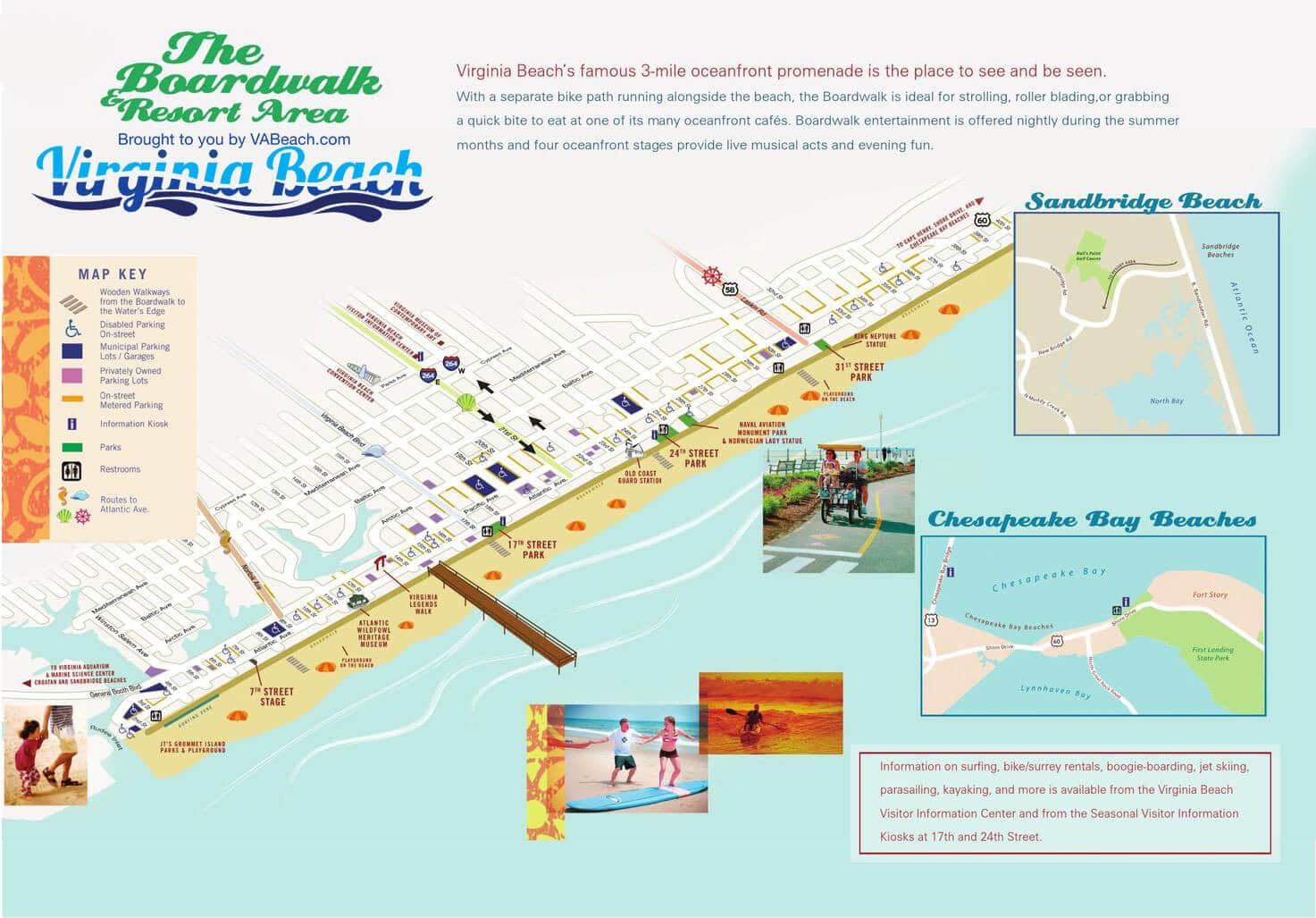 SURFING
Surfing restrictions are enforced from Memorial Day weekend to Labor Day weekend.
Surfing rules are posted in all beach areas.
Surfers must wear a leash and surfing is prohibited within 30 feet of the shoreline.
In the resort area (from Rudee Inlet to 42nd Street) surfing is not permitted between the hours of 10am and 4pm on weekdays and 10am and 6pm on weekends and holidays except in designated surfing areas**.
For the area between Camp Pendleton and Rudee Inlet, no surfing is allowed outside designated surfing zones 11am-4pm daily.
** Designated surfing areas are at Rudee Inlet and between 4th and 5th Street.
View our Surf Report page for more information.
READ MORE ON CITY CODE Sec. 6-116. – Surfing generally
BEACH SPORTS
Courtesy volleyball nets are available on a first-come, first-serve basis.  Nets are located at at 25th, 30th, & 40th Streets.
P laying frisbee and other sports on the beach are prohibited in between Rudee Inlet and 42nd Street, 10:00 a.m. and 4:00 p.m. on weekdays and 10:00 a.m. to 6:00 p.m. on weekends and holidays unless otherwise noted.
Read More on City Code Sec. 6-3. – Playing ball, using frisbee, etc., in certain areas prohibited
PETS
Pets are not permitted on the public beaches, boardwalk, or grassy area between the boardwalk and hotel property from Memorial Day to Labor Day. Pets are allowed  in the residential area north of 42nd St. or south of Rudee Inlet after 6pm and before 10am under control of a leash. Airtight containers for cleanup must be carried and used at all times.
FIND-A-KID PROGRAM
Many of the hotels and motels in Virginia Beach participate in the Find-A-Kid Wristband Program.
This is a free and voluntary program and helps parents quickly locate children that wander away from their families by providing an identification wristband at the front desk to children 10 and under.
ROLLERBLADES, SKATEBOARDS, ETC…
Rollerblades are permitted on the boardwalk, but skateboards, mopeds and bicycles are NOT permitted on the boardwalk (However, there is a bike path next to the boardwalk).
LASERS
Pointing a laser at an aircraft is a FEDERAL CRIME.  Dont' let a simple toy end up ini jail time.
CURFEW
Kids that are equal to or under 17 years of age are not allowed in public areas without an adult between the hours of 11:00pm to 5:00am.
PUBLIC RESTROOMS
Public Restrooms are located at
2nd Street

*

17th Street
24th Street

*

30th Street
31st Street

*
* Open year-round
FISHING
You can only fish during specific days and times.
Fishing from the shore is prohibited from 42nd Street to the Rudee Inlet on weekdays (10:00am – 4:00pm) and on weekends and holidays (10:00am – 5:00pm)
LOUD MUSIC
Keep your music and other social activites to a tolerable and reasonable noise level so that you are courteous to others.
OTHER RULES
Glass containers and alcoholic beverages are prohibited on beaches.
Picnicking is not permitted on the sand dunes.
Fires are not permitted on the beach