Fishing

 in Virginia Beach
Fishing in Virginia Beach is an adrenaline rush when you land "the big one"!  You may not always catch the one you want to mount over your fireplace, but it is is always exciting to bring in a fresh catch.
See our Fish Species in Virginia Beach page for more information.
Since Virginia Beach is located in such a prime coastal area, at the confluence of the Chesapeake Bay, the Atlantic Ocean, and a variety of freshwater waterways, it provides a uniquely diverse range of fish species and fishing destinations. From world-class off-shore competitions, to a plethora of coastal species and a myriad of inland, freshwater adventures, it's no wonder Virginia Beach is considered an angler's paradise.
Be sure to print out our Fishing Knowledge Guide PDF to find out more about all of the fish, where to find them and how to catch them
TYPES OF FISHING IN VIRGINIA
Offshore (Charter) Fishing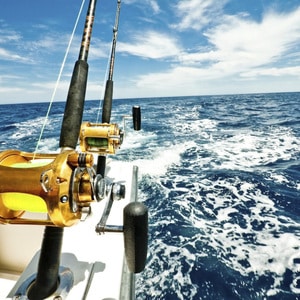 What most people don't know about off-shore charter fishing is that you don't have to travel to far away exotic locations to catch the most desirable fish in the sea. The warm Gulf Stream and Chesapeake Bay provide a fantastic mix of waters with a bounty of fish to choose from.
From June through September both serious deep sea anglers and rookies go looking to do land some of the kings of the sea and will find some of the east coast's most productive fishing areas just outside our inlets. If you have the skills you might be able to do battle with an energetic tuna, or maybe you will be mesmerized by the high-flying antics and lightning speed of the Wahoo, or maybe a tug-of-war with a Bluefin tuna is more to your liking. Whatever your desire, we have it here off the shores of Virginia Beach.
Inshore Fishing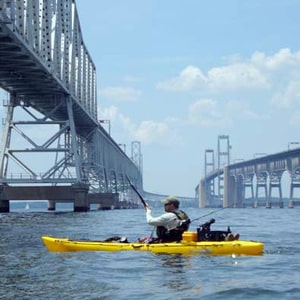 Locals are already aware that Virginia Beach is considered the Striper fishing capital of the world. But that isn't all. We have a bay and an ocean full of other fish that are just as temperamental as the striper and can provide year-round fishing opportunities for anyone itching to angle. Our unique location on the Virginia coast makes our fishing special because we are at the confluence of the Chesapeake Bay and the Atlantic Ocean. Those two great bodies of water make for a very fertile feeding ground for a large variety of fish.
Pier Fishing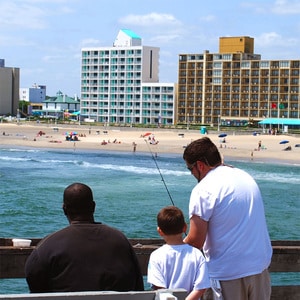 Pier fishing is one of the most popular and enjoyable activities at the oceanfront. Just bring yourself, your kids and/or your friends or family members and drop a line over the railing. There's no need to bring any special gear or pay for any fishing licenses.
4 different piers are located near the resort area. Many of them offer rod and reel rentals as well as sell additional equipment and bait.
One thing that you might find useful when pier fishing… always carry a handy fish identification chart because you never know what's going to swim by and grab your line!
Surf (Shoreline) Fishing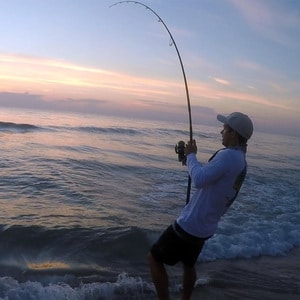 Surf fishing literally puts you right at sea level and allows you to feel in harmony with the ocean. Obviously, you will need to bring your own rod and reel equipment and bait and you will also need to buy a saltwater fishing license at one of the local tackle shops. It is required if you want to fish from the shore.
Common shore and urf catches are large Red fish and Bluefish, as well as Stripers and other species. The real secret to having fishing success in the surf is knowing when the big fish are migrating through a particular area.
Inlets
Rudee Inlet
Located at the southern end of the resort area adjacent to Grommet Island Park. Rudee inlet is home to a huge population of fishing charters and other water sport activities.
The inlet is primarily home to the area's offshore sport fishing fleet and consists mainly of 44 foot to 58 foot sport fishing boats that are designed to quickly and comfortably get fishermen out to sea.  There they can get access to the "big" fish.
Once the big fish migrate out of the area throughout the fall and winter months, the Rudee Inlet fleet turns its attention to more local waters near the coast and bay to fish for Striper and Bluefish.
Lynnhaven Inlet
This inlet is located at the northern end of Virginia Beach's resort area, the inlet hosts a small mix of local marinas, restaurants and agile charter boats that specialize in fishing the Chesapeake Bay and Virginia Beach's inshore waters.
The captains who fish out of this inlet are experts at putting their guest anglers behind the reel of Stripers, Bluefish and Flounder.
Fishing Captains
Virginia Beach is filled with gnarly sea captains who seem to have the ocean in their veins. Many of them have been fishing the Virginia waters for 10, 20, or 30 years. Even those who are relative newcomers to the charter fishing business are usually experts as they have most likely worked as mates in the fleet or they grew up locally fishing the waters.
The one thing all of the captains seem to have in common is their passion for fishing, the ocean, and putting their guests behind the reel on the fish of their dreams.
All of our captains are licensed by the Coast Guard. This means they have gone through rigorous testing and certification that continually updates their seamanship skills as well as their capabilities to take care of their passengers through first aid and CPR.
In addition to the high skill set of the captains, many of the boats in the sport fishing fleet are equipped with some of the most advanced communications, motors, weather radar and fish finding technology available today.
Fishing Licenses
If you want to fish in Virginia, the state does require  you obtain a fishing license. Since just about all of the fishing in Virginia Beach involves saltwater fishing, visitors are required to buy a saltwater fishing license.
Those who are not required to buy a license are people aged 16 and younger or 65 and older.
Additionally, those fishing on a recreational boat, charter boat, headboat, partyboat, or rental boat which already possesses a valid Virginia recreational fishing license covering all people using that boat do not have to buy a fishing license.
Those wishing to fish on a friend's boat or commercial fishing pier that does not have a license must register with the Virginia Marine Resources Commission.
Types and prices of fishing licenses are:
[table id=fishing-licenses /]
For more accurate and detailed information regarding Fishing License Exceptions and Fishing License Fees, please visit
Virginia State Fishing Records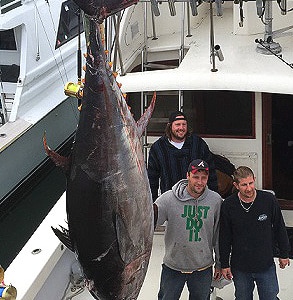 If you want your name in the record books, Virginia Beach is a good place to try your luck.
All of these fish were caught in Virginia Beach's inshore waters or offshore locations frequented by our sport fishing fleet.
Inshore Fishing Records
Striped Bass – 73 lbs.Cobia – 109 lbs.
Sheepshead – 20 lbs.
Gray Trout – 19 lbs.
Offshore Fishing Records
Blue Marlin – 1,093 lbs.
White Marlin – 131 lbs.
Sailfish – 68 lbs.Swordfish – 381 lbs.
Bigeye Tuna – 285 lbs.
Bluefin Tuna – 573 lbs.
Yellowfin Tuna – 203 lbs.
Wahoo – 109 lbs.
Dolphin (Dorado, Mahi-Mahi) – 71 lbs.
King Mackerel – 63 lbs.
Sea Bass – 10 lbs.
Marine Forecast
Before you head out on the water, always make sure the weather is cooperating and the seas are calm. Don't end up like Gilligan!