Fall horseback riding in Virginia Beach is by far one of the most popular attractions for the season. It certainly is an experience you'll never forget. Sit back and hold on as your trusty steed walks you along the soft sands of the beach and the lapping waves upon the shore. This time of year in Virginia Beach the weather is pleasant and you have almost the entire beach to yourself. Hence, the off-season in Virginia Beach gives rise to other attractions and adventures. Virginia Beach Horseback offers you and your group a simple yet unforgettable experience of horseback riding in Virginia Beach. Grab your group and make a day of it. You will be glad you did!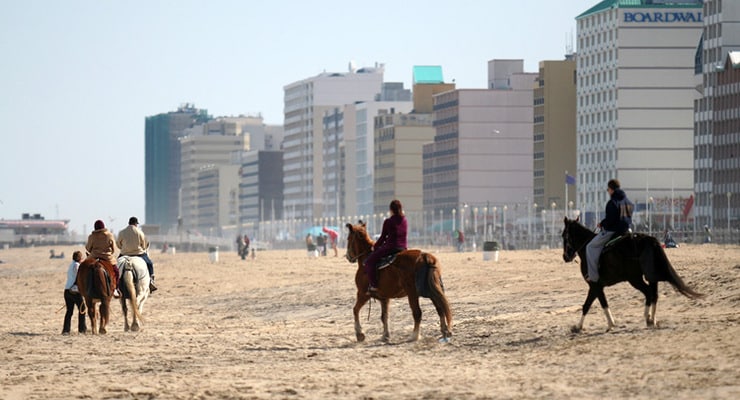 Everybody enjoys riding down the beach from 26th Street under the Virginia Beach Pier all the way down to 10th and 9th streets. Then the tour takes you back along the beach and through the surf as you experience nature at it's best with great expect guides.
Know the Beach Horse Riding Rules Before You Go
No experience is required
Expert Guides maintain safety at all times
Age requirements: At least 6 years old and older to ride a horse by themselves. Children under 6 years of age may double up with a parent
Weight limit needs to not exceed no more than 250 pounds
Riders must be matched based on their experience and comfort levels with horseback riding prior to mounting
Three-stair mounting block making it SUPER easy for getting on and off the horses
Everyone is introduced to their horses and receives a short lesson. Final instructions give just prior to trip
After meeting your guide and getting a short recap on how to safely handle your horses and things to watch out for while out on the beach

You can even get a photo done for a special memento of your experience, just ask for details.
Horseback riding in Virginia Beach makes for the perfect date night or a great spot for special occasions and birthdays. Imagine the reaction when your special someone knows that after dinner in Virginia Beach, it's time for horseback riding. A bucket list for many. Couples have enjoyed this one-of-a-kind attraction at the beach for many years. Thinking about tying the knot?… this is the perfect place. Virginia Beach Horseback is great for special dates, weddings parties, newlyweds, you name it. Go ahead, stop delaying and book your adventure now. You will talk about it for years to come. Have fun horseback riding in Virginia Beach.
We are certain you will LOVE it. Horseback riding is a A FAVORITE Virginia Beach attraction!