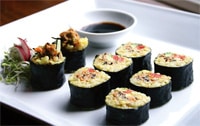 Remember when there was just Chinese food? Egg Rolls, General Tso's Chicken, Chow Mein? It's not that simple any more. It has gotten bigger and better each year and Virginia Beach is happier for it.
Sushi rolls have got to be the most popular. They are a great source of protein and it is such a light meal that you won't feel sluggish or bloated when you are done. Did I also mention that they are healthy?! Mmmmm.. that is a hard combination to beat. Great taste, light on your stomach and healthy! Come give it try! (but go easy on the soy sauce :))
If sushi just isn't your style, we've got traditional Chinese restaurants, and a whole lot more.
Mongolian Bar-B-Que,
Japanese Steak House,
Sushi,
Vietnamese,
Korean,
Thai cuisine,
And more…!
We've got them all and man are they good!