31st Street Stage / Park (King Neptune's Park)
Upcoming Major Events at 31st Street Stage / Park (King Neptune's Park)
These are major events that draw hundreds or even thousands of people to Virginia Beach each year. They are events that you definitely want to think about when you are planning your vacation.
Event
Date/Time
Event Type
Sep 29 - Oct 1
10:00am - 11:00pm
Fairs and Festivals, Fireworks, Music and Concerts
Oct 21 - 22
1:00pm - 6:00pm
Fairs and Festivals, Food or Beer or Wine Events, Music and Concerts
Small Events and Live Music at 31st Street Stage / Park (King Neptune's Park)
These are smaller events and live music events that sometimes occur several times a week. They are a great draw for visitors that want to get out and relax but not be overwhelmed by the amount of visitors that a major event will bring.
Besides the big events listed above, the 31st Street Park also has a small gazebo that performs nightly music throughout the week.  It's a great place to stop and listen on your way down the boardwalk!
START DATE / TIME
PERFORMER
GENRE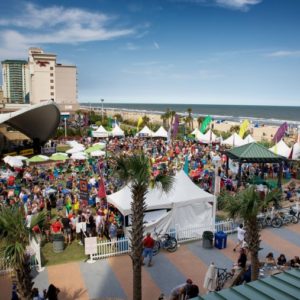 31st Street Stage is commonly referred to King Neptune's Park. It is adjacent to the boardwalk at North End of the beach next to the patio for the Catch31 Restaurant at the base of the Hilton Hotel.
The King Neptune Statue overlooks the yard and stage area. This is a large stage with a large lawn in front of it. Larger bands and festivals are commonly held here and there is a municipal parking garage right across the street between 30th and 31st Street.
VABeach.com Custom Photos