Water Safety and Rip Currents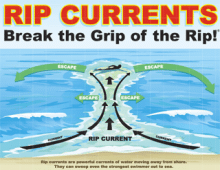 READ OUR RIP CURRENT SAFETY TIPS
What is a rip current?
Rip Currents are powerful, channeled currents of water flowing away from shore. They are the most common beach and surfhazard leading to swimmer distress and potential rescue.
What does a rip current look like?
Foam, or floating objects, moving steadily out to sea
A specific area of water that appears more turbulent than the surrounding water
A noticeable difference in water color, usually darker
Gaps or flat sections in the waves breaking out in the water
Escaping a rip current
The most important thing to remember if you are caught in a rip current is DO NOT PANIC. You should attempt to swim PARALLEL  TO THE SHORE for about 30-50 yards or until out of the rip current, then swim at an angle toward the shore. Many people try to swim against a rip current. This is DANGEROUS.  You will not be able to overcome the direct force of the rip current.  If in danger, wave for help, relax and tread water to save energy!
How do I help someone else?
Don't become a victim while trying to help someone else! Many people have died in efforts to rescue rip current victims.
Get help from a lifeguard
If a lifeguard is not present, yell instructions and use arm motions to swim parallel to the beach
If possible, throw the rip current victim something that floats
Call 9-1-1 for further assistance
General Safety Guidelines for Swimmers
Only swim where and when Virginia Beach lifeguards are on duty. Check for beach/ocean conditions
Never dive into unknown water or shallow breaking waves
Do not swim near fishing piers, rocks, jetties or wooden pilings
Rely on your swimming ability rather than a flotation device
If you are unable to swim out of a strong current, call or wave for help
Keep your feet in the sand, until the lifeguard's in the stand!