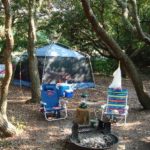 Virginia Beach is VERY RV and camping friendly! It is by far the cheapest way to stay in Virginia Beach.
Seashore State Park is located just inside the mouth of the Chesapeake Bay to the north.  The camping sites there will accommodate tents, small pop-up campers, RVs and they even have cabins to stay in.  You will easily be able to walk to the beach on the Chesapeake Bay.
Additionally, there are several larger privately owned parks just south of the resort area that can accomodate hundreds of campers of all sizes.
You will need to click on an individual campground below to find out specific details.