Virtually all of our hotels/motels, restaurants and shopping centers offer access facilities for the handicapped.
Ramps from the boardwalk to the beach are located at every street along the boardwalk.  Additionally the boardwalk and streets are easily navigable by a wheel chair, crutches or any other handicap aid.
Handicapped parking spaces are located throughout the resort area.
We also have a comprehensive list of handicap accessible hotels and wheelchair accessible restaurants.
BEACH WHEELCHAIR ACCESS AND RENTALS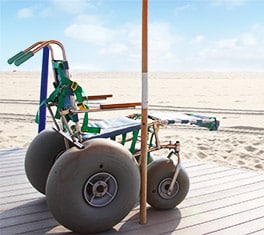 FREE Beach accessible wheel chairs can be obtained up and down the boardwalk.
The locations that offer FREE beach accessible wheel chars and other handicapped items are available on a first come, first served basis.  They can be found on the boardwalk at
2nd Street (adjacent to Grommet Island Park)
17th Street
24th Street
There should be an attendant (city employee) there who can assist you.
The Grommet Island Park beach chairs are limited to the small "park" area but there are other FREE beach accessible chairs available on the Boardwalk from 1st Street to 40th Street:
Most of the larger parks (17th Street, 24th Street, 31st Street ) have accessible beach chairs.
There are two small storage units that have a small sign on them and are only there during tourist season and they are located at 17th Street and 24th Street at the Boardwalk.
These beach accessible chairs are not normally displayed and need to be requested. In the past, these requests were done at the company handling the beach chairs and tents but the responsibility has since been switched over to the life guards.
The good thing about this switch is that you do not need to travel to the chairs – you can make the request to a life guard near you and that request will be relayed and have the chair brought to you (in most cases).
You can also call and rent Wheelchairs from the following local companies
Med Emporium – 757-428-0787
Mobility Scooters – 757-355-2211
WHEELCHAIR BEACH ACCESS AND RAMPS
The streets were there is an extended wood walkway for you to get closer to the beach are at
8th St
16th St
24th St
30th St and
40th St
Once you obtain the accessible chair you have it until noon and if there is no one waiting for it you have it until 4 pm.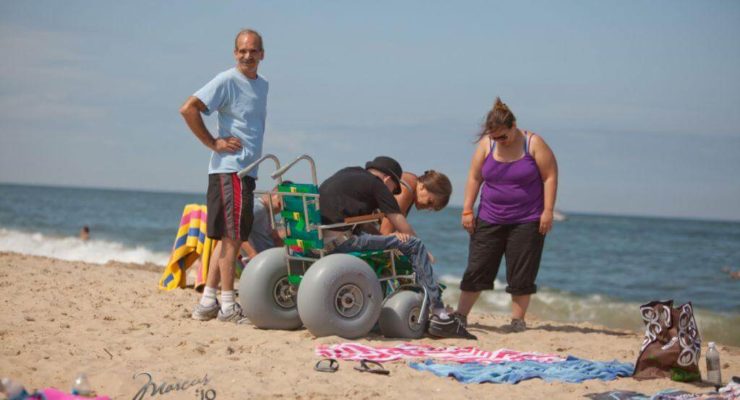 HANDICAP ACCESS RESTROOMS
Permanent Restrooms (with running water)
2nd Street/Boardwalk
17th Street/Boardwalk
24th Street/Atlantic Ave. (24th Street Park)
30th Street/Atlantic Ave.
31st Street/Atlantic Ave.
Portable Restrooms
8th Street (May 1-Nov. 1)
Croatan South End (Year-round)
Grommet Island Park Handicap Park
Grommet Island Park, located at the end of the boardwalk near 1st street, is the first handicapped accessible beach park of its kind in the nation. It is mostly for kids but it will allow a wheel chair to have access to the sand.
Ramps and wood polymer decking lead to beach seating areas. The playground includes modified slides, monkey bars, and raised sand tables for building sandcastles. Visitors may also rent beach wheelchairs that can be used on sand.
Read more about Grommet Island Park here.