First Handicap Accessible Park
Grommet Island Park is no regular beach park.  In fact it is America's  first 100% handicap accessible park to make certain that everybody can enjoy the beach.
The park was inspired by local Virginia Beach resident Josh Thompson (JT), who grew up at the beach and loved to surf.  In fact, that is where the name came from… a "grommet" is a young surfer. In 2006, at age 33, Josh was diagnosed with ALS (also known as Lou Gehrig's disease). When his family went to the beach, Josh stayed behind. Josh's father, Bruce Thompson, wondered about others in the same situation and pioneered the idea for the park. Josh's family and friends mobilized the community to raise the money for the park's design and construction.
Since 2008, the annual "JT Walk" has raised millions of dollars for the park as well as ALS research.
Grommet Island is one-of-a-kind
Grommet Island  Park is the first of its kind in the country and represents the power of people determined to make a difference in others' lives. Now disabled visitors to the beach and their families can enjoy the beach , the sun the sand and the waves together. Grommet Island Park makes what was once impossible , possible for thousands of families of the handicap. This 15,000 square foot beach park features wheelchair accessible entrances and an incredible playground that includes poured-in-place surfacing, raised sand tables for sandcastle building at an accessible height, a sensory board for children who are autistic and visually impaired, and a sway boat.
For more pictures and information you can also visit our Grommet Island Park page under Things To Do.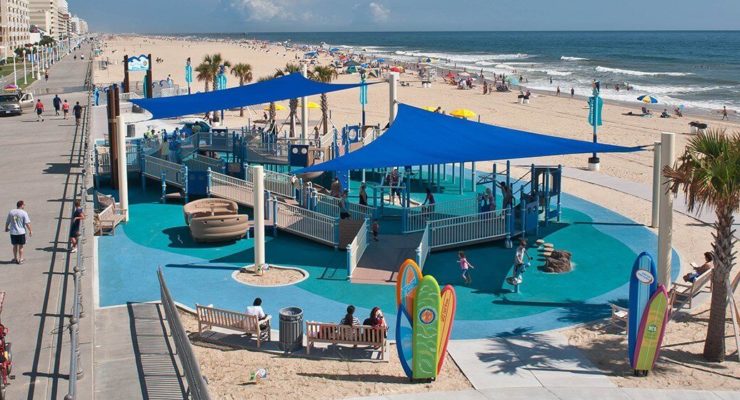 Amenities:
Fully Accessible Playground
Beach Wheelchairs
Public Restrooms
Beach Wheelchairs:
Beach accessible wheelchairs are available for use in the park and adjacent beach (1 to 2 blocks). Please see a park attendant to check out a wheelchair at no cost.
From November through April, call (757) 385-1100 to reserve a beach wheelchair.
Park Attendant Hours:
May 1 – October 31: 8:00 am – 8:00 pm
Great for the Kids
Grommet Island Park boasts sculptural features such as dolphins, a surfboard, and a wave that are all fully kid friendly! Climbing ropes, slides, ramps, ladders and many more features allow parents to take their kids to the park and relax while their kids play.  The park is covered so the kids can play all day out of the sun!
Now because Grommet Island Park exists every"BODY" can go down and enjoy the beach.