When you come to Virginia Beach and start walking toward the northern end of the beach (beyond 31st Street), you may notice something a little unique on the beach at the Virginia Beach Oceanfront. Located on beach, at 36th Street, Hillier Ignite Fitness Park has been completed (as of 2016)! It is a great place to visit to watch others test their skills.. or to try and test your own physical prowess. This fun new Virginia Beach attraction is a great place to test your physical and athletic skills and endurance while still being able to enjoy the sights and sounds of the beautiful Atlantic Ocean!
Hillier Ignite is a Virginia Beach-based non-profit organization. They donated the fitness park to the Oceanfront resort area. They also enlisted the help of WPL for free design services and Ballard Construction for free installation of the park elements.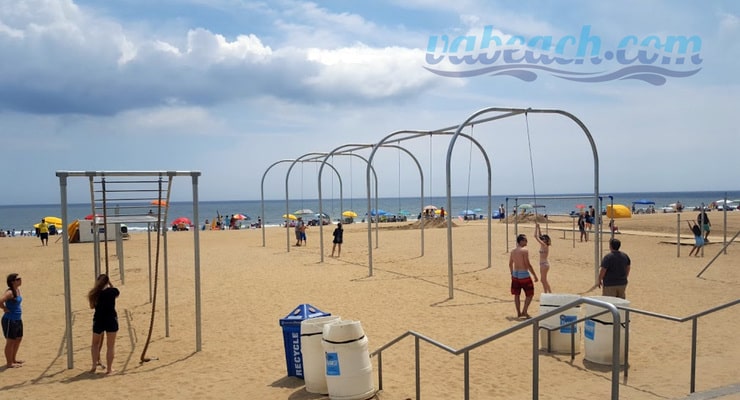 Modeled after an existing fitness park in Santa Monica, CA the park features a wide variety of strength training apparatuses and body-weight-based exercise equipment.
Amenities Include:
High Bars (2)
Low Bar (2)
Parallel Bars
Fitness Climber/Ropes
Level Ring Climber
Slackline Posts
Swing-a-long Rings
Rope Climber
Low Parallel Bars
Balance Beam
Multipurpose Post
Luke Hillier, President and founder of Hillier Ignite and executive chairman of the board for ADS, Inc., first presented his proposal for the park to Virginia Beach City Council on Nov. 3, 2015. A site at 40th Street was originally selected, but the site location was changed to the location four blocks further south near the Edgewater Condominiums.
Luke liked the idea of having a fitness park on the beach so much, he decided to duplicate what he had seen in California and create it in Virginia Beach.
The Hillier Ignite Fitness Park is a fantastic way to get a workout in while visiting the beach! The exercises that you are encouraged to try and equipment provided will strengthen your body as well as test your balance, stamina and endurance. Since it is FREE, it is not going to impact your wallet or vacation funds. People of all ages are welcome to come and watch others or test their own skills at this Virginia Beach fitness park. NOTE: There is no security check but it is required that children under the age of 16 must be accompanied by an adult while using the park equipment.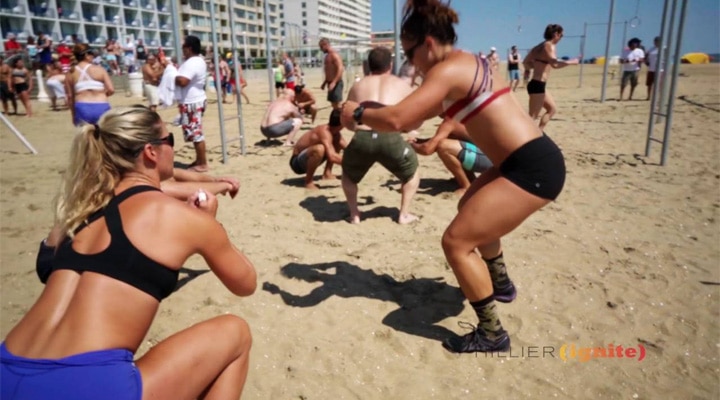 When initially walking up to the park, there is a sign that displays the rules of the park. Of course, the first and most important rule is to consult your primary physician before starting any exercise program. it is indicated on the "board of rules"  that the use of the equipment is at your own risk. Since this is a fitness area on the beach, all drugs, alcohol and tobacco products are prohibited from the area. The famous Virginia Beach No Cursing Law is in full effect, so the use of profanity in the area should be little or none.   The sign will also remind you to respect other people, share the equipment, and keep the Hillier Fitness Park clean and free of debris and trash. As always, the last rule on the sign should not have to be repeated… it says HAVE FUN! A great mantra for anyone to live by!
The Hillier Fitness Park hours are from sunrise to sunset every day. That leaves plenty of time to enjoy this exciting way to get in some fun and fitness in Virginia Beach!
Come visit Virginia Beach and check out the Hillier Ignite Fitness Park now!