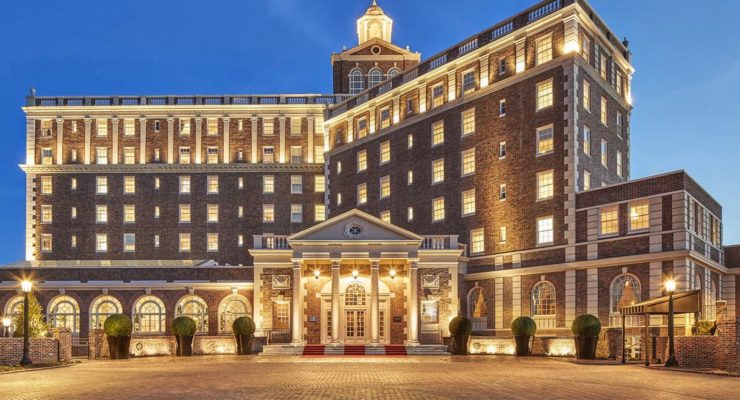 The historic Cavalier Hotel reclaimed its well-deserved reputation as a luxury destination in Virginia Beach when it reopened its doors this year. This 90 year old landmark underwent an $80 million makeover making it a spectacular sight for visitors from all over the globe. The hotel is now listed on the National Register of Historic Places, making it the talk of the town all over again. To celebrate the unveiling of the 90-year-old grande dame, 75 couples with a LOVE connection to The Cavalier enjoyed a romantic night of dining, dancing and memories. To top it off they all brought back the memories with a renewal ceremony officiated by Governor Ralph Northam. Certainly a night to remember for everyone.
In addition to hosting seven U.S. presidents such as Calvin Coolidge, Herbert Hoover, Harry Truman, Dwight Eisenhower, John Kennedy, Lyndon Johnson and Richard Nixon, The Cavalier welcomed the top celebrities of the era, including Frank Sinatra, Muhammad Ali, Elizabeth Taylor, F. Scott and Zelda Fitzgerald, Ella Fitzgerald and many more. And, when the oceanfront Cavalier Beach Club opened in 1929, it became a popular entertainment destination; big band leaders Benny Goodman, Cab Calloway, Glenn Miller and Lawrence Welk all performed there.
The Famous Cavalier Pool
The new incarnation of the hotel's celebrated indoor saltwater pool mimics its historic roots. Originally filled with salt water piped in from the ocean and referred to as "The Plunge". It is always a favorite with guest. And as you can see it has been brought back to its original beauty. A raised loggia stretches the length of the pool, its exterior wall punctuated by a long row of rhythmic arched windows and potted trees in white urns. Casual chic furniture upholstered in white forms conversation groupings overlooking the 72-foot-long rectangular pool with its new spa at one end and its tiled Cavalier monogram sparkling from the bottom.
Historic Elegance Abounds
The Cavalier Hotel is a true representation of elegance making for a truly memorable stay in Virginia Beach whether on business or on vacation. It also serves as a great place to get married or any special occasion. The result after the $80 million dollar renovation is an experience that is like nothing else. Their meticulous attention to detail ensures that every element of your stay exceeds expectations. Start the day with a day at their luxurious five-star spa. A spa with soothing architectural details like milk-glass tile, satin-finished wood and neutral warm tones providing a serene and dream-like ambiance. Indulge your senses at three restaurants, where elegance is served with farm to table cuisine and their own distilled spirits. Soak up the oceanfront atmosphere at the reinvented Oceanfront Cavalier Beach Club, where you can enjoy live music, stunning views and local cuisine. The Cavalier is a place you must experience… at least once. It truly is… one-of-a-kind!