Pepe Percivati's Seashore Cathedral
In 2018 the Virginia Beach Office of Cultural Affairs issued a call to artists to submit ideas to beautify the Rudee Walk that traverses the area beneath the Rudee Inlet Bridge. And just a short time later, a panel made up of art and design professionals, the Resort Area Commission, Public Works and the community selected Italian artist Pepe Percivati a.k.a "Pepe Gaka" and his stained-glass themed submission. He is no ordinary artist and has made beautiful pieces all over the world. Now he has left his mark in Virginia Beach!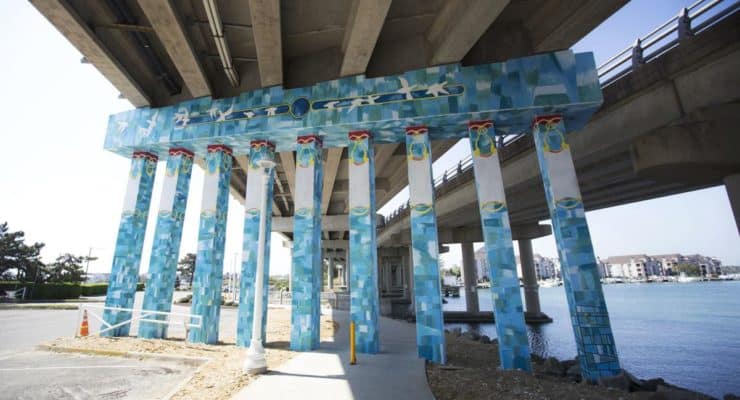 Gaka's renderings features vibrant colorful designs that capture Virginia Beach's unique flavor and incorporate a variety of local activities and vistas. The artist, who has more than eight years of international experience in private and public commissioned mural work, handpainted two rows of concrete columns and a wide vertical surface under the bridge.​ It has certainly made under the bridge… look better than ever before. It is also part of the Rudee Inlet "Connector Loop", that (for the first time) enables people to walk from the
Marina District
all the way to the southern tip of the
Virginia Beach Boardwalk
.
​Gaka arrived in Virginia Beach in mid-September to begin priming and painting the site with the goal of completing the project in about three weeks, weather permitting. This beautiful mural features beach sports and nature themes on a colorful background outlined to look like stained glass.  Gaka worked more than 10 hours a day, emptying paint cans with an arsenal of personal brushes. "I always bring my own brushes," he said. "They last forever if you take care of them." Such modest words from such a talented artist. I frequently
bike
under the bridge myself and got the opportunity to see Percivati hard at work… hardly taking his attention off of his mission… for even a second. Dedication at it's finest.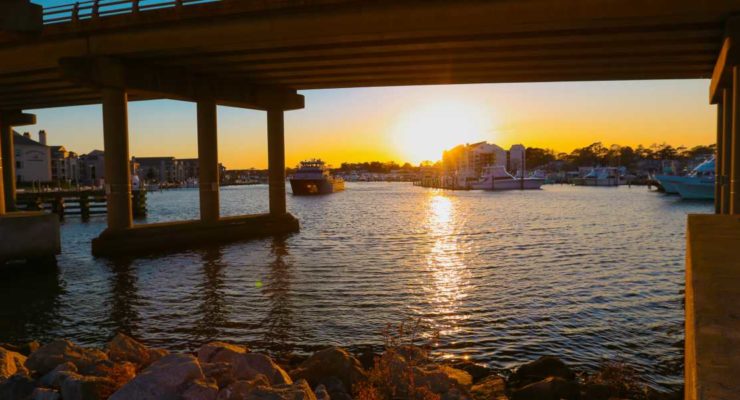 The back wall of the mural pays homage to Paul DiPasquale's iconic statue, "King Neptune," that can be seen at the
31st Street Neptune Park
at the Oceanfront. Another "must see" point of interest in Virginia Beach.
The painted murals under the Rudee overpass are located along a highly visible pedestrian foot/bike path that always serves as a welcoming space for visitors, residents and families. The area is widely used by residents and visitors for activities such as
boating
, kayaking, fishing, surfing, parasailing and
sightseeing
. You will want to put this on your list of things to do in Virginia Beach.