Make the Ocean your Playground with Water Sports!
Rudee Inlet is home to many of the water-sports outfitters and is the true hub of water activity in Virginia Beach. Families and friends can rent a wave runner and head into the open Atlantic ocean, right from the inlet, or take the whole family aboard a jet boat or sport boat and enjoy a day's worth of boating and exploring. It's a blast to rent a kayak and explore peaceful waters, or sail the high seas on a luxury sailing yacht. You can go on a dolphin watching excursion in the summer, a whale watching trip in the winter and loads of other trips
anytime everyday in between.
Rudee Inlet Jet Ski Rentals has been providing a wide range of on-the-water activities for over 30 years, including jet skis, boats, kayaks and fishing charters. Their 20-foot sport boats fits up to seven people and are great for families who want to get out and explore the scenic Virginia Beach coast from a vantage point so few ever get to see. They also offer wave runners that can fit one, two or three people at a time, as well as the largest riding area in Virginia Beach.
Adventure Parasail will allow you to fly high above the Oceanfront and watch as the sunbathers become tiny specs along our shores. Fly by yourself or tandem with a friend—It is a once-in-a-lifetime kind of thrill to parasail so if your ready for the adventure head on down to the Marina District of Virginia Beach. And of course, after all this fun, you may have worked up a quite the appetite.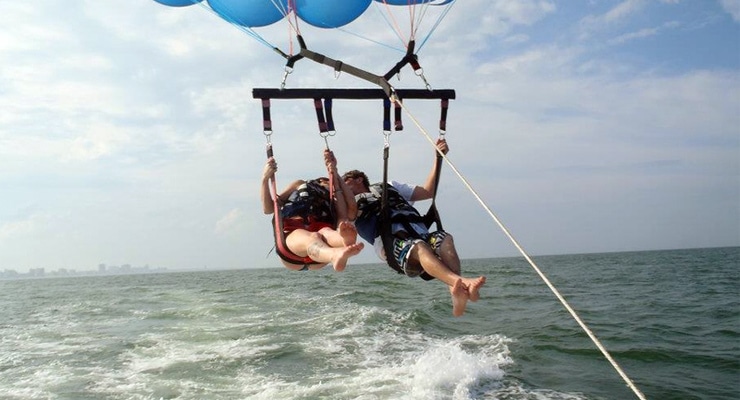 Rudee Inlet has Seafood!
Locals and visitors alike know that Virginia Beach is home to some of the best restaurants in Coastal Virginia. Come and enjoy the freshest of seafood right from the Chesapeake Bay and Atlantic Ocean. Big Sams Inlet Cafe & Raw Bar is well loved by locals and tourists alike for its casual elegance and simply fresh local fare. Year after year, people from all walks of life flock from near and far to relax and enjoy Big Sam's seafood entrees as they gaze out over the Rudee Inlet.
They sit and relax and anticipate tasting the legendary cuisine and to enjoy their beach cottage lifestyle on Rudee Inlet. You just can't go to the marina district without going to Big Sam's. The best seafood typically comes from places just like this that are at the heart of the fishing community, where the fresh catch is brought back each and every day. Big Sam's is right in the heart of it all . There is no need to go any further… we will see you folks down at Big Sam's in The Marina District!