North American Sand Soccer Championships
Date/Time
Venue/Location
Jun 7 - 9
10:00am - 2:30pm

THIS SPECIFIC EVENT INSTANCE EITHER
DOESN'T EXIST OR HAS ALREADY OCCURRED
Ticketing Information:
FREE for spectators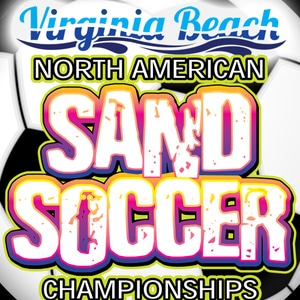 ---
THIS EVENT HAS ALREADY OCCURRED.
IT ENDED ON June 9, 2019 2:30 pm
If this is a recurring event, then we might not have the new upcoming dates in our system. Please check back later or make sure that this event has not changed names or ended permanently.
EVENT DESCRIPTION
The premier USA and international amateur and pro/am beach/sand soccer festival on the planet.
NASSC (North American Sand Soccer Championship) features the men's pro/am U.S. OPEN cash division involving top beach soccer athletes from around the country and the world. NASSC is conducted by the Hampton Roads Soccer Council as a charity fundraiser for athletic facilities in the Region.
This "World Cup" equivalent of international amateur beach soccer events is hard to miss and attracts teams from all over, including nearly 20 states and as far away as Africa, Portugal, Germany, Brazil, Norway's rocky seacoasts, the Caribbean, and the wilds of Canada's Northwest Territories. The Championships are staged over 22 full City blocks of prime oceanfront real estate, on over mile and a half of white sand – against a backdrop of diving gulls, banners waving in stiff ocean breezes, thousands of Boardwalk bedazzled spectators, live music and great food. Meanwhile, surf's up just a few steps from the soccer action and, when day is done, most participants and fans head out to the area's unbelievable lineup of regional entertainment.
You'll find colorful international teams parading to the sound of conga drums enroute incredible U.S. OPEN Pro/Am matches, with cash prizes at stake; hundreds of youth teams ages 9 thru 19 battling on the beaches, men's and women's single gender squads, college teams, and ever-increasing "corporate-coed" competitors from businesses and military organizations promoting health and fitness. The game, played on 25-35 or 30-40 yard grids, is 5v5 and fast-paced, with limited dribblin' and an average of 60 shots on goal. Never fear, however, as over 80 brackets are seeded to support all levels of play – from the beginner to the most professional. Much like beach volleyball, sand soccer's rules are easy to pick up. Uniforms for this beach bash are "anything-goes".
The Hampton Roads Soccer Council (HRSC) is your host for the tournament weekend and plan year-round to ensure a guaranteed sand-blast. HRSC consists of the Virginia Rush, the Southeastern Virginia Women's Soccer Association, the Over Thirty Men's League (OTSL), and Beach FC travel soccer organizations, HRSC has staged the Championships since 1994 to generate revenues for its premier 75-acre Soccer Complex. Over 100 national and regional sponsors and advertisers graciously support the festival. New corporate teammates are always welcomed and may view our sponsors page or contact us for more information.
Conventional outdoor soccer enthusiasts make up the bulk of competition. Once you've experienced soccer in the sand, you're hooked big-time and a huge percentage of 93% players and families return year after year to make the North American Sand Soccer Championships their "Summer Kickoff", or a reward for a just-completed school year or Spring soccer campaign.
The tournament is first come-first in by date of receipt of online application and entry fee. The single exception is the Pro/Am division where entry is based on team composition and history and additional entry material is forwarded by the tournament to those Pro/Am teams showing interest in entering the men's "U.S. OPEN".
JOIN THE BEACH SOCCER EXPLOSION – GAME ON!!
EVENT SCHEDULE
Thursday, June 6, 2019

US Open Teams and BSWW officials arrive; Pro/Am practice begins
7:30pm – U.S. Open Welcome Reception (by invitation only), U.S. Open Team Registration and Coaches Meeting

Friday, June 7, 2019

8:00am – Men's and Women's U.S. Open matches begin in stadium and South Pro Field
11:00am – Mandatory vendor meeting with City of Virginia Beach
5:00pm – 9:00pm – Team Packet Pick up at Virginia Beach Convention Center
5:00pm – 10:00pm – Sand fields open for optional practice
5:30pm – VIP Reception (by invitation only)
6:00pm –  10:00pm – Beer Garden hours
7:00pm – 8:15pm – Kid's Clinic in 24th Street Stadium
9:00pm – U.S. Open Evening Match

Saturday, June 8, 2019

8:00am to sunset – Sand soccer matches; U.S. Open matches in stadium
8:00am to sunset – COED Flag Football, Beach Volleyball, Kickball, and Sand Hockey
11:00am – 10:00pm – Beer Garden hours
5:00pm – 10:00pm – U.S. Open Quarter Final Matches

Sunday, June 9, 2019

8:00am – 6:00pm – Sand soccer matches continue
8:00am – 6:00pm – COED Flag Football, Beach Volleyball, Kickball, and Sand Hockey
8:00am – 10:00am – U.S. Open semi-finals in stadium
10:00am – 4:00pm – Beer Garden hours
10:20am – Women's U.S. Open Bronze Medal Match in stadium
11:30am – Women's U.S. Open Championship Match in Stadium
1:00pm – Men's U.S. Open Bronze Medal Match in stadium
2:30pm – Men's U.S. Open National Championships in stadium
---
---