Siebert Realty Beach Rentals
601 Sandbridge Rd Virginia Beach, VA 23456
757-426-6200
877-422-2200
Region: Sandbridge, Virginia Beach
Description
Over 350 Beach Home & Condo Vacation Rentals at Sandbridge Beach!
Let Sandbridge be your next vacation destination with five glorious miles of relaxation. Come explore this quiet, semi-isolated beach community which is actually a peninsula...just a few blocks wide and only 20 minutes South of the exciting Va. Beach Boardwalk area. Siebert Realty fully furnished beach home and condo rentals (3-13 bedrooms / Sleeping 6-30 people) that come equipped with all the comforts of home!
Visit our website where you can search, view interior pictures, and book online at www.siebert-realty.com.
MC/Visa accepted.
Free rental brochure.
Check our website for ONLINE REDUCED RATES
We have ongoing Specials and Reduced Rates Year Round, as well as our Rent 3 Nights, Get 4th Night FREE - Promo Code: 4for3
See you at the beach!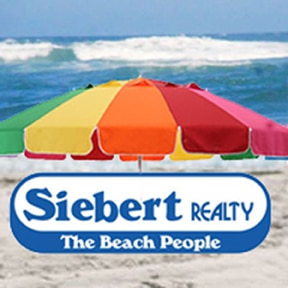 Looking for a great place to rent a beach home? Check out Siebert Realty in Sandbridge! Their selection of beach homes is amazing!

Amenities
ADA Compliant
Barbeque / Picnic Area
Bicycles Available
Exercise Room
Fireplace in Room
Full Kitchen
Game Room
Hot Tub / Jacuzzi in Pool Area
Hot Tub / Jacuzzi in Room
Indoor Pool
Internet (Free)
Kid/Family Friendly
Microwave
Non-Smoking Facility
Oceanfront
Oceanfront View
Outdoor Pool
Parking- On Site
Pet Friendly
Wheelchair Accessible
Wi-Fi Access Available
Featured Siebert Realty Beach Rentals Rental Properties
---
Coupons for Siebert Realty Beach Rentals
601 Sandbridge Rd Virginia Beach, VA 23456
Siebert Realty Beach Rentals
This review is specifically for Siebert realty, not necessarily the entire experience of my stay. Summary - Professional company I recommend using for your beach house vacation. We arrived at our rental house, "Family Tides", just before the recent flooding in the back bay. The house was beautiful, better than advertised, and you could tell the owner really cared about the renters. Exceptional amenities were set up for children. However, a mix up occurred and clean linens did not arrive until the 2nd day if our stay, which caught us by surprise and explained why the sheets had some smells. Siebert was professional and did everything they could to rectify the situation, sending someone to our house to assist, even though their place of business was on a flooded road and I saw their parking lot was in standing water. In no way does this excuse the mix up, which occurred prior to the flooding. Rather this shows you are dealing with a company that does care about your experience and will go the extra mile to earn your business and fix any issues that come up. Did I enjoy dirty linens? No. But I know mistakes happen and you should know this company will go out of its way to rectify them. I believe you can't ask for more than that and I highly recommend them. For them to react to my issue as they did shows this company has integrity and holds itself to a high standard. I will rent from them in the future.
As homeowners, we have been partners with Siebert Realty for over 13 years. They have helped us purchase our homes, prepared us for renters, and manage our property like it is their own. Their customer service to us and to our renters is some of the best I have ever experienced. I highly recommend Siebert Realty.