Siebert Realty Beach Rentals
601 Sandbridge Rd Virginia Beach, VA 23456
757-426-6200
877-422-2200
Region: Sandbridge, Virginia Beach
Description
Over 350 Beach Home & Condo Vacation Rentals at Sandbridge Beach!
Let Sandbridge be your next vacation destination with five glorious miles of relaxation. Come explore this quiet, semi-isolated beach community which is actually a peninsula...just a few blocks wide and only 20 minutes South of the exciting Va. Beach Boardwalk area. Siebert Realty fully furnished beach home and condo rentals (3-13 bedrooms / Sleeping 6-30 people) that come equipped with all the comforts of home!
Visit our website where you can search, view interior pictures, and book online at www.siebert-realty.com.
MC/Visa accepted.
Free rental brochure.
Check our website for ONLINE REDUCED RATES
We have ongoing Specials and Reduced Rates Year Round, as well as our Rent 3 Nights, Get 4th Night FREE - Promo Code: 4for3
See you at the beach!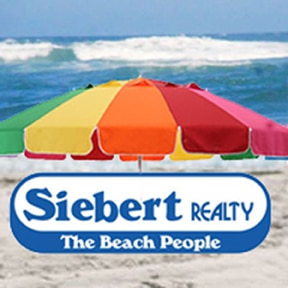 Looking for a great place to rent a beach home? Check out Siebert Realty in Sandbridge! Their selection of beach homes is amazing!

Amenities
ADA Compliant
Barbeque / Picnic Area
Bicycles Available
Exercise Room
Fireplace in Room
Full Kitchen
Game Room
Hot Tub / Jacuzzi in Pool Area
Hot Tub / Jacuzzi in Room
Indoor Pool
Internet (Free)
Kid/Family Friendly
Microwave
Non-Smoking Facility
Oceanfront
Oceanfront View
Outdoor Pool
Parking- On Site
Pet Friendly
Wheelchair Accessible
Wi-Fi Access Available
Featured Siebert Realty Beach Rentals Rental Properties
---
Coupons for Siebert Realty Beach Rentals
601 Sandbridge Rd Virginia Beach, VA 23456
Siebert Realty Beach Rentals
Sand Jammers CS307 -
The photos on the website do not do this unit justice! This rental was the most well equipped suite we have ever had (including the deluxe penthouse suite we had rented at Sanctuary on our last visit to Sandbridge). The kitchen had everything we needed. All the kitchen tools were in great shape, I had no problem whipping up muffins, milkshakes or regular meals. The bedrooms were spacious and comfortable, with lots of room to spread out. The kids loved their room and the shelves full of books and games, and the cozy chairs for enjoying them. There were many board games and movies for the family in the living room, plenty of seating and an overall welcoming atmosphere to the entire place. I had concerns before we arrived, about being able to see the ocean from the unit, but we had a nice view, and we were also able to see the back bay in the distance on the other side. If we had the chance to stay here again, we definitely would!
My friends and I are all retired school teachers and have been coming to Sandbridge each October for the past 8 years. We stay at Atlantic Escape and enjoy our stay each time. Working with Siebert Realty is always easy. We appreciate the fast and courteous maintenance department and have already booked for our 9th year, 2018!!