Siebert Realty Beach Rentals
601 Sandbridge Rd Virginia Beach, VA 23456
757-426-6200
877-422-2200
Region: Sandbridge, Virginia Beach
Description
Over 350 Beach Home & Condo Vacation Rentals at Sandbridge Beach!
Let Sandbridge be your next vacation destination with five glorious miles of relaxation. Come explore this quiet, semi-isolated beach community which is actually a peninsula...just a few blocks wide and only 20 minutes South of the exciting Va. Beach Boardwalk area. Siebert Realty fully furnished beach home and condo rentals (3-13 bedrooms / Sleeping 6-30 people) that come equipped with all the comforts of home!
Visit our website where you can search, view interior pictures, and book online at www.siebert-realty.com.
MC/Visa accepted.
Free rental brochure.
Check our website for ONLINE REDUCED RATES
We have ongoing Specials and Reduced Rates Year Round, as well as our Rent 3 Nights, Get 4th Night FREE - Promo Code: 4for3
See you at the beach!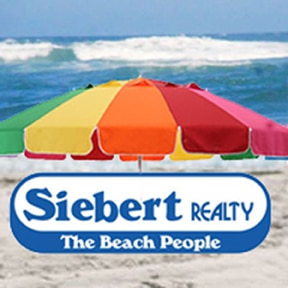 Looking for a great place to rent a beach home? Check out Siebert Realty in Sandbridge! Their selection of beach homes is amazing!

Amenities
ADA Compliant
Barbeque / Picnic Area
Bicycles Available
Exercise Room
Fireplace in Room
Full Kitchen
Game Room
Hot Tub / Jacuzzi in Pool Area
Hot Tub / Jacuzzi in Room
Indoor Pool
Internet (Free)
Kid/Family Friendly
Microwave
Non-Smoking Facility
Oceanfront
Oceanfront View
Outdoor Pool
Parking- On Site
Pet Friendly
Wheelchair Accessible
Wi-Fi Access Available
Featured Siebert Realty Beach Rentals Rental Properties
2756 Sandfiddler Road
You'll be puttin' on The Ritz! This Oceanfront beach home will be a delight to any family! All the features and amenities suitable for one...
Oceanfront 10 Bedrooms 10½+½ Baths Limit 26 Guests
View Property
2745 Sandfiddler Road
Relax, recharge, rejuvenate…your vacation bliss begins at Winston! The original house was 100% renovated inside and out in 2013 – all New ...
Semi-Oceanfront 8 Bedrooms 5 Baths Limit 18 Guests
View Property
2448 Sandfiddler Road
From the moment you enter the stained glass graced foyer, you'll feel at home…Mi Casa, Su Casa! This sparkling oceanfront home features be...
Oceanfront 7 Bedrooms 4 Baths Limit 20 Guests
View Property
344 Back Bay Crescent
Luna offers you the "ULTIMATE" in bay living! Absolute luxury surrounds you in this exquisite 4-level custom home…recently renovated...
Bay/Canal 8+RecRm Bedrooms 5½ Baths Limit 26 Guests
View Property
3204 Sandfiddler Road
This 8,200 sq. ft. beach home is HUGE and features a Sparkling Indoor Pool! Wake up to the beauty of the Atlantic while vacationing at Absolutely Stel...
Oceanfront 9 Bedrooms 8 Baths Limit 22 Guests
View Property
3501 Sandfiddler Road
This gorgeous semi-oceanfront home features tasteful beachy furnishings and gleaming hardwood floors in the 3rd floor Great Room. The Living area feat...
Semi-Oceanfront 6+RecRoom Bedrooms 7½ Baths Limit 16 Guests
View Property
---
Coupons for Siebert Realty Beach Rentals
601 Sandbridge Rd Virginia Beach, VA 23456
Siebert Realty Beach Rentals
As homeowners, we have been partners with Siebert Realty for over 13 years. They have helped us purchase our homes, prepared us for renters, and manage our property like it is their own. Their customer service to us and to our renters is some of the best I have ever experienced. I highly recommend Siebert Realty.
I was planning a large family reunion and needed 3-4 houses for a week. I spoke to a few different ladies several times to get the size houses that we needed within close proximity to each other. Every time I called, they were very helpful. When I needed to cancel one of the houses because some family members could no longer attend, they were extremely accommodating, contacting the owner to work things out and keep my costs lower. They really went the extra mile for me and I greatly appreciate it! I can't wait for our stay in the summer:)
Rented "coastal charm" week of may 13-20, 2016 and had an incredible time. This was our first time renting a vacation house. I had questions and concerns before signing the lease and they were always quick and polite with answers. Everything was exceptionally clean. Only downfall was the heater in the hot tub was not working so it read 68/70* entire week. Despite that, we enjoyed it so much that we are going to be booking again for next year with siebert!!