There was an old advertising company called the Martin Agency and they created the famous saying, "Virginia is for lovers," but as it turns out that might actually be true. Virginia Beach has been named the most romantic city in America. This is according to OpenTable's Top 25 Most Romantic Cities in America.
OpenTable is a major provider of online restaurant reservations for various cities all over the United States. The ranking was calculated by the percentage of restaurants rated "romantic" according to OpenTable dinner reviews, the percentage of tables seated for two and the percentage of people who dined out for Valentine's Day last year. Seems like a good source :).
Caroline Potter, Chief Dining Officer of OpenTable states..
"The cities on this list, from the charming coastal community that is Virginia Beach to the top dining destination of Chicago, are those in which deliciously romantic dinners are de rigueur for couples in all stages of courtship…".
OpenTable's Top 25 Most Romantic Cities in America:
Virginia Beach, Virginia

 (chant… We're #1!… We're #1…)
Newport, Rhode Island
Milwaukee, Wisconsin
Atlantic City, New Jersey
Santa Fe, New Mexico
Birmingham, Alabama
Oklahoma City, Oklahoma
Omaha, Nebraska
St. Louis, Missouri
Colorado Springs, Colorado
Baltimore, Maryland
San Antonio, Texas
Annapolis, Maryland
Madison, Wisconsin
Fort Worth, Texas
Greenville, South Carolina
Memphis, Tennessee
Louisville, Kentucky
Savannah, Georgia
Austin, Texas
Tulsa, Oklahoma
Greensboro, North Carolina
Chicago, Illinois
Lexington, Kentucky
Columbus, Ohio
But that isn't all we are known for.  Virgina Beach ranks well in a lot of other categories.
When looking for a great vacation spot, anyone with kids will definitely look for the most family-friendly locations. This can mean different things for different people, but fortunately for you Virginia Beach has a little something for every family. From entertainment to dining, and the peace of mind that you are in a safe location, Virginia Beach has it all!
Family Safety – #10
One of the biggest factors I look for when traveling with my son is how safe the city is. According to Sperling's Best Places, Virginia Beach was ranked #10 out of 50 cities as one of the safest cities for families with children. They used criteria such as crime rates, air quality, child pedestrian accidents and drowning. When traveling to a city that my family is unfamiliar with, knowing that it is one of the top 10 safest cities gives me some extra peace of mind.
Family Fun – #8
Of course, families really just want to have fun and enjoy each other's company while on vacation, and since families can range in age it can sometimes be difficult to make everyone happy. Not to worry, Virginia Beach has you covered! Virginia Beach has tons of fun activities and things to do for the whole family. Try out Tula Adventure Sports for weekly kid's camps, paddle boarding, wakeboarding, kitesurfing, kayaking, sailing, and boat tours. Or, try out Captain Jack's Pirate Ship and sail the open seas with your kids as a pirate. But it's not just for kids, the young and old alike will enjoy sailing along the waters off the coast of Virginia Beach with pirates – in a REAL pirate ship – as they entertain with songs and dancing! There is also a snack bar aboard the ship and a good possibility of seeing dolphins on your voyage.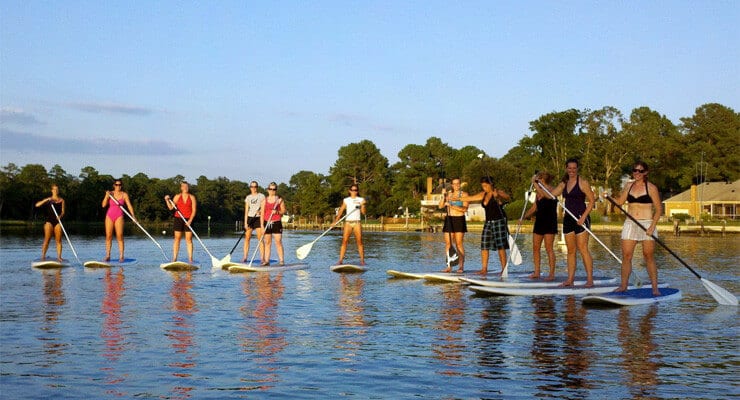 Virgina Beach is the Best Place for Events – #8
Don't forget all of the fun events going on around town. On the boardwalk there are nightly events during the summer months and four oceanfront at 7th Street Stage, 17th Street Stage, 24th Street Stage and 31st Street Stage that provide live musical acts. We have a list of our LIVE music acts on our Virginia Beach Nightlife page.  You can also go on down to Fountain Plaza where they hold different festivals throughout the year, such as the Craft Beer Festival in April and Festa Italiana in September.
Then, check out the fireworks during Salute to Summer at the Virginia Beach oceanfront, and of course during the Fourth of July! There are weekly fireworks displays held from July-September!
For those who prefer shopping therapy, there are plenty of shops and specialty stores around town, as well as spas and nail salons to relax after a day of shopping. Families can also enjoy mini-golf, jet ski and boat rentals, movies and museums – great for the few rainy days – for other outlets of fun!
Other Areas Where Viginia Beach Ranks
No matter the size of your family or ages of your children, you can see there is plenty to do in Virginia Beach. This rapidly growing area has been voted one of the top cities in the country in many categories, just come visit to see why. You may just end up wanting to stay!