Sandbridge Realty
581 Sandbridge Rd Virginia Beach, VA 23456
757-426-6262
800-933-4800
Hours:
8:30am - 5:00pm Mon-Fri
Region: Sandbridge, Virginia Beach
Description
Sandbridge Realty offers hundreds of homes and condos along a beautiful stretch of wide sandy beaches along the Atlantic coastline. Your dream beach vacation becomes a reality with so many different options: whether you want an oceanfront mansion or a bay cottage, we have something for everyone!
Visit Sandbridge Beach today! Minutes from the resort area of Virginia Beach!
Amenities
ADA Compliant
Barbeque / Picnic Area
Bicycles Available
Exercise Room
Fireplace in Room
Full Kitchen
Game Room
Hot Tub / Jacuzzi in Pool Area
Hot Tub / Jacuzzi in Room
Indoor Pool
Internet (Free)
Kid/Family Friendly
Laundry
Microwave
Non-Smoking Facility
Oceanfront
Oceanfront View
Outdoor Pool
Parking- On Site
Pet Friendly
Wheelchair Accessible
Wi-Fi Access Available
Featured Sandbridge Realty Rental Properties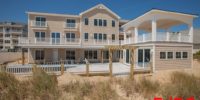 2476 Sandfiddler Rd
BR: 12
BATH: 12.5
SLEEPS: 36
The Regency….coming in 2015! Just as the name implies…this brand new 12 bedroom oceanfront palace will be one of Sandbridge's newest...
---
Coupons for Sandbridge Realty
581 Sandbridge Rd Virginia Beach, VA 23456
Nearby Places of Interest
Restaurants

Attractions
Sandbridge Realty
My family stayed in "Straight to the beach" this summer. As far as our reservation, no problems. We were able to do the vacation plan and it was a smooth process. Easy check-in.The house was as advertised. Second and third floor look recently remodeled and were nice. The first floor, not so much. It had a mildew smell, the window didn't close due to a dehumidifier being duct taped to the window and it was full of bugs. The whole house could have been cleaned better, cob webbs could easily be cleaned away with broom or duster. Outside of the front of thehouse could use a power wash also, looks pretty bad. Other than the few issues with cleanliness, the house was nice. Great pool and space for the family. Close to the beach. Overall a good experience and would use Sandbridge realty again if we returned to the area.