Holiday Lights Maola Milk Merry Mile
Ticketing Information:
$5 per vehicle Friday-Sunday and holidays
$4 per vehicle Monday-Thursday
$2 Military Mondays
$25 motorcoaches
All vehicles enter through the main entrance at 2nd Street. Cash only is accepted at the gate.
CREDIT CARDS ARE NOT ACCEPTED AT THE BOX OFFICE AT THE ENTRANCE TO THE HOLIDAY LIGHTS. CASH ONLY.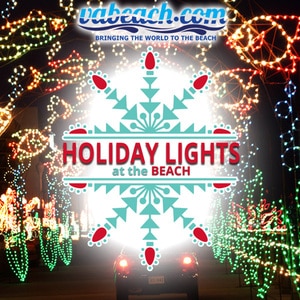 This Event is Produced and Managed by:
Please contact them for specific questions
---
EVENT DESCRIPTION
Holiday Lights at the Beach brings the joy of the Christmas season to Hampton Roads each and every holiday season!
2017 brings a new experience to the boardwalk as Holiday Lights Maola Milk Mile…a nautical and holiday fantasy of lights spread over a dozen blocks – from 8th Street to 22nd Street. This year's light show will feature over 50 of our most popular, hand-picked displays along the boardwalk and beach. The entrance is at 2nd Street.
Take a shiny journey into nautical, holiday, and adventure lands – all along the beautiful Virginia Beach boardwalk. Festive fish, jumping dolphins, frolicking porpoises – all in bright, colored lights against the clear night-time sky, are the stars of Holiday Lights at the Beach presents The Enchanted Seaside Mile. They are joined by Santa, elves, and a 40-foot tall Christmas tree.
Over 30,000 families a year make this unique holiday light show a part of their holiday celebration! This fantasy of lights is sure to amaze holiday travelers visiting Virginia Beach.
Drivers will be able to tune their car radio to a frequency to hear holiday music along the Holiday Lights at the Beach display, making it easy to see AND hear why this event has been named one of the Southeast Tourism Society's "Top 20 November Events" and the American Bus Association's "Top 100 Events in North America for 2011!"
---
EVENT SPECIAL NOTICES AND INFORMATION
All vehicles enter through the main entrance at 2nd Street & Atlantic Avenue for your drive on the boardwalk!  Cash only accepted at the gate.
HOURS
5:30pm-10:00pm Sunday through Thursday
5:30pm-11:00pm Friday-Saturday.