When you think about family vacations or just a weekend getaway with your family or friends, you immediately think about the best place to go, but you also think about what kind of activities you want to do while you are on vacation. If you are going to Virginia Beach this year (or any year), you can be sure you'll find a lot of different events and activities. VA Beach has so many different activities to offer that it's going to be hard to pick just one.
Yes, Virginia Beach offers lots of regular activities like fishing, surfing, kayaking and boating activities. But Virginia Beach also has a very busy event calendar where you can find all the various current and upcoming events.
Every week you can find specific events on the beach, on the boardwalk, in different bars and restaurants or performing arts centers.
Some of the popular annual summer events in 2015 are:
This event is held every year in June and brings in thousands of the world best soccer players.  There are divisions set up for all genders and age groups.  This massive tournament takes up a lot of real estate on the oceanfront.  When you walk by you will get to not only see fantastic soccer games, but also a lot of other activities and sports going on along the sidelines. After the games are over there are FIREWORKS for everyone to enjoy.  It is quite a spectacle. Enjoy the games, enjoy the food and enjoy the Fireworks!
Click here to see more information about the North American Sand Soccer Championships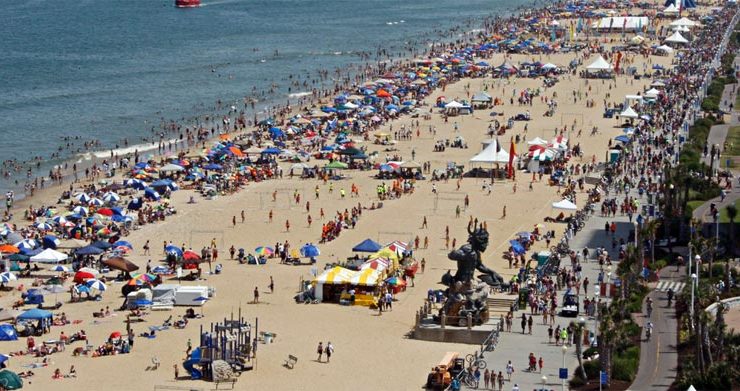 This is not necessarily a one-time event in Virginia Beach, but rather a series of events that last most of the summer (from May through August).  It is a fantastic way for families with young kids to enjoy themselves on the beach while the kids are entertained.  Each instance of the event is theme-based so your kids can get immersed in a total atmosphere of their favorite movie or TV show characters.  Then, after some activites on the beach with the Adventure Series staff, it is MOVIE TIME.  A big screen projectionis erected on the beach so that kids and parents can relax and watch some classic kids movies like Planes Fire and Rescue, NEMO and many more!
Checkout the full Family Great Adventure Series schedule here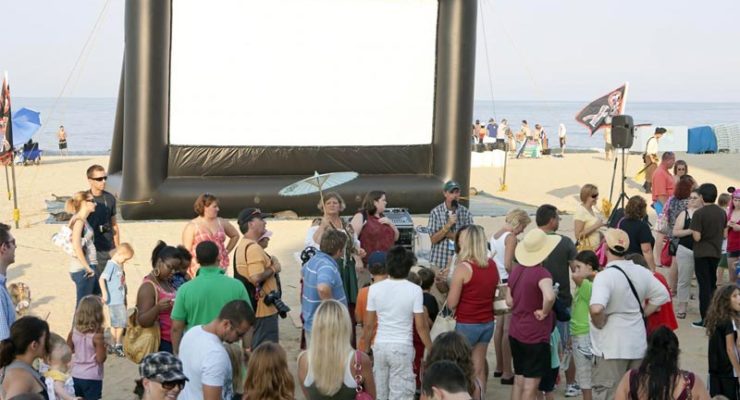 This isn't just a music festival, it is an experience. The entire Virginia Beach oceanfron gets consumed by this event in late August / early September (Labor Day Weekend).  There are live music performances everywhere.  Every park and stage at the oceanfront has something going on during this festival.  The grandaddy of all performances is held on the 5th Street Stage right on the beach.  It is erected each year specifically for this event and showcases some of the worlds top bands and singers like Journey, Billy Idol, the Beach Boys, Lenny Kravits and more!  This is a full-blown festival in all ways imaginable.  The music, the food, the activites.  It's awesome! You just have to experience it in order to believe it.
See more information about the Virginai Beach American Music Festival here.
These are just a few of the mega-events that Virginia Beach has to offer.  You can find other interesting activities and events each and every month.  Simply visit the Virginia Beach Events page and pick the ones that you like the best!
Virginia offers locals and visitors all kind of events and activities all year around.