Surf-n-Santa 5 Miler
THERE ARE NO EVENT DATES FOR THIS EVENT. THE EVENT HAS EITHER ALREADY OCCURED, OR WE DO NOT HAVE ANY UPCOMING DATES FOR THE EVENT.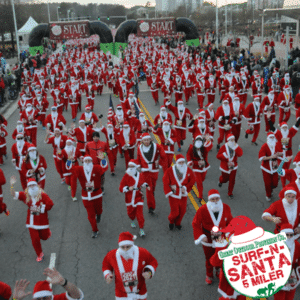 ---
EVENT DESCRIPTION
J&A Racing brings you the Great Outdoor Provision Co. Surf-n-Santa 5 Miler presented by Bon Secours In Motion on December 16, 2017, a Twilight 5 Miler in Virginia Beach. All of our participants will receive a 5 piece Santa Suit and will set off into a nautical holiday wonderland against the Atlantic ocean. The event is held at twilight along the boardwalk so runners can enjoy a festive evening being mesmerized by the holiday spirit.
---
---
PHOTOS