Tidewater Comicon
No Events Found at Tidewater Comicon
Ticketing Information:
2 Day VIP passes are $100 before MAY 12th and not available in person at the door. *
2 Day passes are $30 before MAY 12th $40 in person at the door. *
Saturday Only passes are $20 before MAY 12th $25 in person at the door. *
Sunday Only passes are $20 and $25 in person at the door. *
VIP guests receive 2 extremely limited edition convention comics, our top secret goody bag, early admission to panels, and convention exclusives from some of our guest artists. A value of over $200.
Children 12 and under are FREE with an adult. Must be accompanied by a parent or guardian.
(We reserve the right to see ID for some questionably tall rugrats).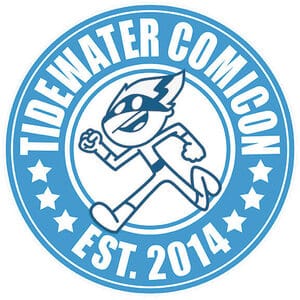 ---
EVENT DESCRIPTION
Tidewater Comicon is Virginia's fastest growing comic book convention and returning to the Virginia Beach Convention Center with Celebrity Guests, Comic Book Creators, Arcade Room, Panels, and Events.
Tidewater Comicon is the brainchild of founder Mike Federali who sold his entire comic book collection at garage sales, flea markets (and even on AMC's Comic Book Men) to make the show possible. The first show was a one-day hotel show with an over-capacity crowd. Fans gathered, met creators, had a blast, and left with only one complaint… More Space!
Thanks to the yard sales and fundraisers Tidewater Comicon moved to a 37,000 sq. ft. space at the Virginia Beach Convention Center. Again the crowds came in, met creators AND celebrities, had a blast, and left with only one complaint… MORE SPACE!
In 2016, following an impressive Kickstarter campaign, the show reached its highest attendance so far with 23,000fans.
Event Schedule
SATURDAY
12:00pm – The Panel Party with Mark Mariano
You are cordially invited you to the Panel Party, where your imagination, storytelling ability, and art skills will be welcomed and celebrated. Simply put, we are going to have a blast making comics together! Warning: attending this party may result in you throwing your own Panel Party at home!
1:00pm – Sketchbook Daredevil Workshop with Laura Lee Gulledge
How can a sketchbook make you more daring as a visual storyteller? One page at a time! Strengthen your creativity in this inspirational workshop with author & artist Laura Lee Gulledge where she will share tips for overcoming obstacles, developing skills, taking risks, and staying inspired with your sketchbook practice. She will then demonstrate a couple of her favorite drawing dare exercises LIVE and invite you to draw along! Bring your sketchbook and a sense of adventure.
2:00pm- Draw A Little Dream with Chris Mariano
Chris Mariano interviews kids and parents about their strangest dreams. Professional artists bring their dreams to life on the drawing board.
3:00pm – Make a Pokemon with John Gallagher
Cartoonist John Gallagher helps you create and draw your very own Pokemon!
4:00pm – Cartoon Carnival
A fun series of drawing challenges that will spark your imagination and tickle your funny bone!
SUNDAY
12:00pm – Let's go Lego! with John Gallagher
Cartoonist, John Gallagher, teaches you how to draw Lego versions of your favorite characters.
1:00pm – Superhero University with Chris Mariano
OPEN TO FIRST 20 KIDS
You won't be able to fly and it won't give you super powers, but you will learn all the ins and outs of superheroics from the industry's top professors.
PLUS you'll have fun making your own cape and superhero mask! Come to this workshop as a kid, leave as a superhero!
2:00pm – Making Mini Comics with Laura Lee Gulledge
How do you get out your ideas using words and pictures?
Many cartoonists got their start by making comics in MINI form! In this workshop YA graphic novelist Laura Lee Gulledge will walk you thru her process for making comics while sharing original art and video shorts.
She will then demonstrate the process by developing a character and writing a six-panel story LIVE with the audience.
Guests walk away with inspiring handouts to create their own mini-comics!
3:00pm – Scribble Scramble with Mark Mariano
Eight artists chosen from the crowd compete in a series of quick-thinking drawing quests for the ultimate prize:
The Scribble Scramble Championship belt. Your doodling destiny awaits.
4:00pm – Creative Cartoon Characters with John Gallagher
Are you having trouble coming up with your own character?
This simple and fun creative exercise will have you filling your sketchbook with your own original and unique cartoon characters.
---
---
EVENT SPECIAL NOTICES AND INFORMATION
SHOW HOURS:
Sat 10-6
Sun 10-5
RULES AND REGULATIONS FOR TIDEWATER COMICON
MembershipRules:
Membership Badges are required for entry into TWCC and must be visible at all times.
Membership Badges are non-replaceable, non-refundable,and non-transferable.
Acceptance of a Membership Badge constitutes consent to the use of the wearer's image or likeness in any recording, transmission, or reproduction for use by TWCC.
Failure to comply with the published rules ofTWCC, including disruptive or inappropriate behavior, will result in the revocation of Membership and ejectionfromTWCC.
TWCC may revoke membership and eject anyone from the convention at any time for any reason without a refund.
General Convention Rules:
Follow requests and directions ofTidewater Comicon, Facility, and ConventionStaff.
Tidewater Comicon, and the Virginia Beach Convention Center (VBCC),are not responsible for personal items. Unattended and lost items will be turned over to proper authorities(Convention Center Management).
Appropriateattire is required at all times, including shoes, pants/shorts/skirts,and shirts/tops.
Each eventroom haslimited spaceand seating.Seating isnot guaranteed toany persons. Standing room isallowed onlyatthe discretionof TWCCStaff.
Lining up is permitted no earlier than one-half hour prior for general events, and 30 minutes prior to autograph sessions.
Possession or consumption of alcohol is only permitted in designated locations.
The legal drinking ageinVirginiais21 years of age. Anyoneunder legal age found drinking or intoxicatedwill bereported.
Smoking is only permittedwithin designated locations outside the buildings.
Theft, assault, drug use, and other illegal activities will be prosecuted to the fullest extent of the law.
Discrimination and/or harassmentofany form willnotbe tolerated.
Do not hinder or obstruct the flow of foot traffic within the convention area.
Individuals may be asked to remove large or unwieldy bags, props, or other accessories from the convention areas.
Question or concerns should be brought to TWCC staff at either the InfoDesk, or Registration CustomerService.
CosplayPropPolicy:
We want a SAFE environment for ALL attendees so don't bring anything that could hurt someone.
Real weaponsare banned in theconventionareas,regardlessif they are functional or not.
No explosives orfireworks.
No loudstereos, horns, or whistles.
All prop weapons must be inspected each day of the convention.
Any item found to violate city, state, or federal law may not be returned at the discretion of the VirginiaBeach PoliceDepartment.
TWCC Security cannot approve a prop prior to the convention
Members who do not comply with this policy or are deemed repeat offenders will be subject to removal from TWCC.
Foam and cardboard weapons are acceptable. Propfirearms are allowed provided they have brighttips.Prop bowsmusthave arrowswithoutsharp tips.
Prohibited Items:
Alcohol and illegal substances.
Wheeled items (excluding mobilityassistance devices), including butnotlimited to: Rollerblades. Skates. Skateboards. Wheelies. Scooters. Bicycles. Revealingand/or offensiveattire.
Asa general rule, if you can't wear it at the beach, don't wear it here.
WHAT'S NEW