There are a lot of great restaurants, bars, and venues in Virginia Beach that offer awesome Happy Hour and Daily Specials to save you money while having fun. Since we are in a resort area, prices can often times be much greater than your average establishments…so this article will guide you to some deals you probably were not aware of from before. There are terrific specials on everything from drinks and cocktails to signature dishes and appetizers that bring people back…time after time. Save some money and check out some of the best of Virginia Beach. Here are some of our favorites…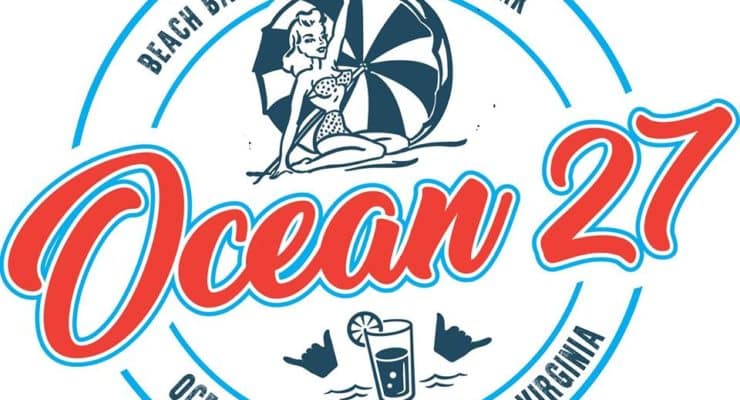 Ever since their opening late last spring, Ocean 27 has become one of the hottest spots on the entire boardwalk. It offers so much for both the kids and the adults in a fun, interactive space situated right on the boardwalk with some of the best views of the oceanfront. Imagine you, your family or your friends enjoying over 5000 SQFT Beach, Bar, and Park that is Ocean 27. Everyone has been talking about them too. It's a place for fun any day of the week…especially this time of year.
Have lunch on one of the sliders, take in the ocean breeze, play a game of corn hole, or dance to some of the best live music at the beach. Ocean 27 has some great Happy Hour Specials Monday through Friday from 3 to 6pm. This just so happens to be one of the most beautiful times of the day down at the beach. So get down there and enjoy drinks with co-workers or friends after a long day at the office. The best part is they offer one of the area's favorite drinks 'Crushes" for only $5. If you have not had an Orange Crush or one of the many variations of it…then you need to try one. As with any Happy Hour, you can always count on specials for well drinks, domestic beers, and ice-cold drafts too. Ocean 27 is ready to host your fun in the sun at the beach. Put it on your Happy Hour List!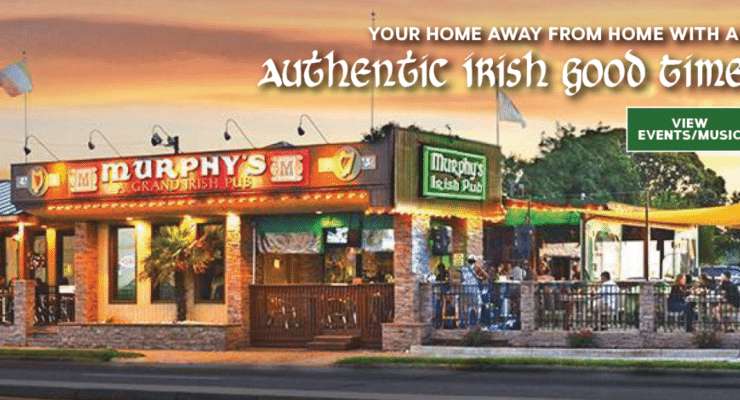 Of course you have to always check out the local Irish Pub when in a new city or town. Murphy's is one of the BEST Irish pubs around and the atmosphere is like no other place at the beach. Since 2003 Murphy's has become one of the BEST places to be. Enjoy the Irish Culture, eat delicious dishes and most definitely taste some of their signature Irish drinks. In fact EVERY Monday through Friday between 3 and 8pm you can take advantage of Irish drafts and select Irish whiskeys. They have the best selection, so make sure make it a point to check out the Irish Happy Hour at Murphy's Irish Pub.
Oh wait a minute…we forgot to also mention some of the food specials. Tuesday's it is $2 Fish Tacos, something everyone loves to try when at the beach. Murphy's, although an Irish Pub, is know for some of the best seafood in town as they work with local fisheries as part of The Chesapeake Wild Seafood. This ensures you the freshest seafood available. Wednesday night is Wing Night and don't forget they offer a delicious breakfast on Saturday and everyone's favorite "Champagne Brunch" on Sundays. I imagine you are making plans to visit Murphy's right now? We will see you there!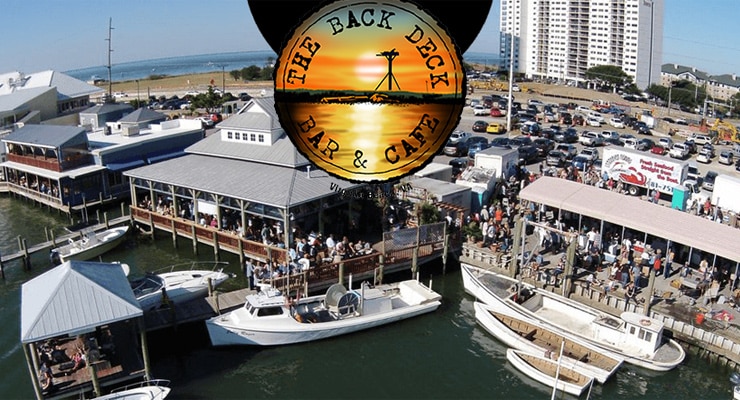 Now before we do anything, we have to inform you that the Back Deck is maybe one of the BEST places you will ever see the sunset. The restaurant's view faces west and gives way to a beautiful back drop to enjoy some great spirits and tasty food. So what kind of specials and Happy Hour action can you expect at The Back Deck?…A lot!
First off, you must bring an appetite when coming to The Back Deck. Their sister company The Shellfish Co. makes sure you are getting seafood right off the boats. Trust me it doesn't get any better than this…and make sure to remember that one of their MOST popular DAILY Happy Hour Specials is 11.99/lb shrimp…which is a favorite with locals and tourists alike. And it is a nightly special along with $4.50 crushes so pick a day and enjoy.
Now Happy Hour in Virginia Beach isn't "HAPPY HOUR" without drinks and cocktails. The Back Deck has you covered Monday to Thursday from 3 to 7pm with specials on your favorite's like Dos XX, Tecate, and of course orange crushes. Check out their menu for daily specials like 1/2 wine bottles on Mondays or Bloody Mary or Mimosas $7.00/pitcher Sundays. You can't beat it. So what are you waiting for? It's time to make plans to catch the sunset at The Back Deck one day soon. Enjoy yourself. You earned it!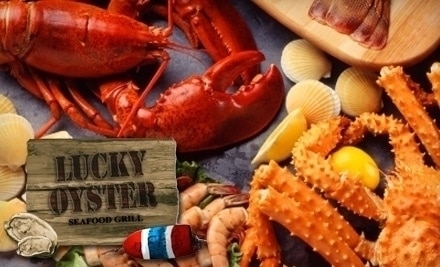 Lucky Oyster Seafood Grill is one of the most popular restaurants in Virginia Beach. They are know for terrific seafood, atmosphere, service, and live music from some of the area's favorite local artists. It's a fun bar to enjoy cocktails, appetizers and the best in seafood from their lunch and dinner menus. Now let's get into to the Happy Hours and Weekly Specials you can enjoy at Lucky Oyster because they have some GREAT ones!
Sunday Brunch is a big hit, every week, from 10-2pm with their Bloody Mary Bar and mimosas ready to let you start your "Sunday Funday" off right. Sports fans really enjoy Sundays as well because they can check out all the MLB (Major League Baseball) in their Island Cantina.
Monday is a great night as well with the Military Appreciation Nights from 4 until 9pm where the military folks get to buy an entre and get the second for 1/2 off. It's their way of thanking those that protect and serve.
Wednesday's are popular too with their 1/2 bottles of wine. This is a great spot to be after a long day at the office.
Lucky Oyster has daily specials so be sure to check those out and pick a date for Lucky Oyster Seafood Grill. You won't be disappointed.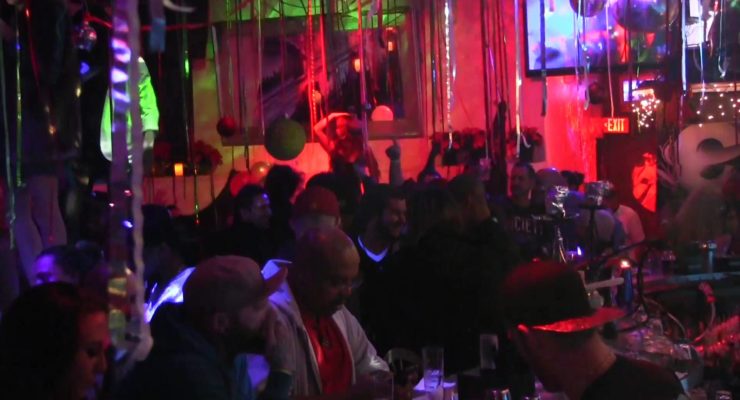 Late night, Central 111 is one of the hottest places to be in Virginia Beach. Actually, any time at night…because they have a lively atmosphere and that real club atmosphere you won't find anywhere else in Virginia Beach. Get away from the hustle and bustle of the resort area and "wine and dine" at one of the area's most happening night clubs. You will have a blast and they have great Happy Hour and Weekly Specials that you will want to check out.
Let's start with the fact that they offer 1/2 OFF Martinis & Wine 6-9pm 7 days a week 365 evenings a year. Now that is a deal we can all live with! Central 111 also has awesome food so don't miss out on 1/2 Steak Oscar Nights from 6-10pm every Friday night. Tuesdays are great because they offer BOGO Tapas which is something Central 111 is known for…delicious tapas. This is a late night venue so the fun goes into the early morning so it's time for you to go and see what all the BUZZ is about!
Big Woody's may have not been at the beach for many years…but it sure has become a hot spot for fun, food, and drinks in Virginia Beach. They have daily specials, all the best in sports, live music weekly and awesome Happy Hour and Daily Specials in Virginia Beach. If you LOVE sports and a sports bar atmosphere…Big Woody's is your spot. So let's get into the good stuff…the Happy Hours and Daily Specials stuff! This restaurant, bar and sports pub features 28 TV's with 2 large projector screens and live bands several nights of the week. Look for an outrageous daily Happy Hour, the NFL and NHL sports packages and college sports on all the TV's, and cornhole on the patio. Monday's are called "Customer Appreciation Day" and you can get .59 cent shrimp and wings, Tuesdays are "Tex Mex Tuesdays" with $2 fish or steak tacos which is a BIG favorite with everyone. For me personally, the day I enjoy most is Thursdays where you can delight your taste buds with their $7.99 Ahi Tuna. Sports fans come check out Big Woody's and enjoy your favorite games, awesome food, drinks and of course a great atmosphere.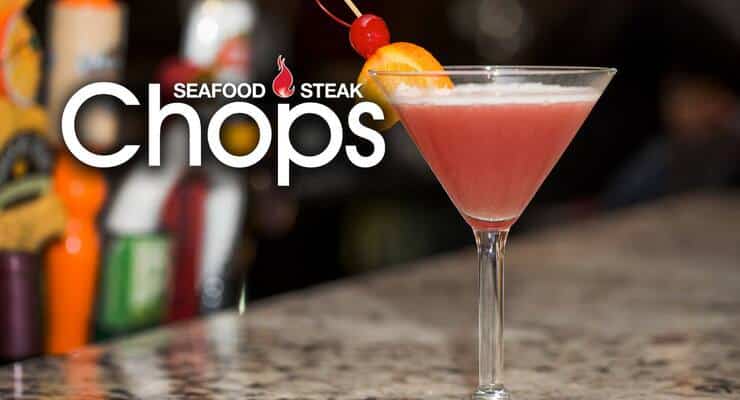 If you love seafood, steaks, and great happy hour and daily specials you must check out Chops in the 31st Street Corridor. Chops offers Happy Hour and Daily Specials everyday of the week from 4 to 7pm. Wing Nights on Mondays, Shrimp Night Wednesdays, and of course one the favorites for everyone…Pizza Night Fridays. Chops is a great place to meet for after work drinks, date night, or just any night you are looking for a great meal in the resort area.
Do you enjoy craft beer? If so Chops has a large selection of craft brews that were made in Virginia from well-know breweries such as O'Connor Brewing Co., Wild Wolf Brewery and others. They have an extensive list of signature drinks such as "The Tropical Mule", "The Virginia Beach Crush", or "Gaston's Manhatten". In fact they have such an large list of drinks, cocktails, wines that we will have to direct you to their wine/cocktail list for more details. Chops is a perfect place to enjoy yourself and also treat yourself. Chops also made our list of Best Places for Date Night in Virginia Beach and is ready for your next special occasion.
Virginia Beach has so much to offer when it comes to great places for happy hours and daily specials. All of the ones that made the list for this article have unique menu items and drinks to check out at good cost. So it is time for you to make some plans for fun and have a happy hour in Virginia Beach.