Ocean 27
2705 Atlantic Ave Virginia Beach, VA 23451
(757) 428-4200
Region: Oceanfront North (26-40), Virginia Beach
Description
Ocean 27 is the first of it's kind at the oceanfront. An outdoor area to enjoy food, cocktails and live music weekly. It's situated with amazing views of the beach and boardwalk. It is located at 27th & Boardwalk just outside of the Hyatt house hotel. A perfect place to kick back and enjoy the ocean breeze and live music acts.
Ocean 27 has a park side area where folks can get wood-fired pizza, burgers and fries and a beach side with an 80-foot walk-up bar and a stage for live music acts. It will quickly become the hottest place on the boardwalk. Check it out while you are on the boardwalk today. It's awesome!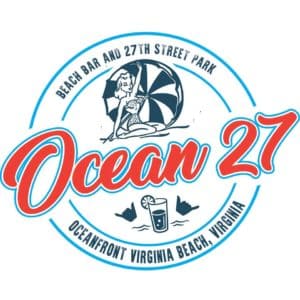 Hottest bar at the beach.

---
Coupons for Ocean 27
2705 Atlantic Ave Virginia Beach, VA 23451
Ocean 27
Food was good. I had the shrimp and crab cake, wife had the Cali chicken, kids had plain cheeseburgers. Little on the pricey side, but being at the beach you almost expect it. Service was a little slow, but not horrible. 1000% better than the meal we suffered through at Lager Heads. I would recommend this place if you don't mind dropping a little extra cash.
Definitely recommend this restaurant! Food was good, service was good! 10/10. Alyx was great and even though she was busy as she was the only one working she was attentive and made sure we had everything we needed! Drinks were good, refills came fast, food came fast as well. Absolutely no complaints at all and definitely will be coming back to enjoy ourselves again.
I ended up here one lazy sunday afternoon to see a local band. That I happen to be close friends with. I had an awesome time. Great music, beautiful women, at an outside bar on the ocean. Salt air and a warm breeze give this place a great ambiance.