Craft Beer Festival
Ticketing Information:
Tickets include sampling, a commemorative cup, and live entertainment.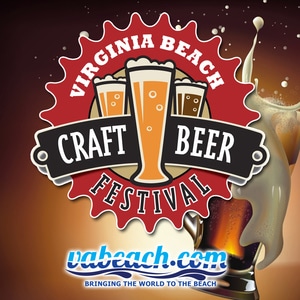 This Event is Produced and Managed by:
Please contact them for specific questions
---
EVENT DESCRIPTION
Over 50 craft beers from over 25 breweries will be available for sampling at the Virginia Beach Craft Beer Festival.  Tickets include unlimited sampling, a commemorative cup, and live entertainment.
A limited number of tickets will be available each day.
Ticket prices will be announced soon!
Featured Breweries in 2016 included:
O'Connor El Guapo and Sweater Weather Wit, Smartmouth Alter Ego and Free Thought Pale Ale, Bold Mariner Dog Zebra and Red Maiden, Young Veterans Pineapple Grenade and Jody Beer, Back Bay Atlantic Avenue IPA and Neptune's Nectar , Commonwealth Wapatoolie IPA and Aureole, St. George English IPA and Larrys Lemonade, Ale Werks Tavern Ale and Chesapeake Pale Ale, Traditions Hull 488 and Red Willie Irish Red, South Street Satan's Pony and Twisted Gourd, Port City Optimal Wit and Munumental IPA, Legend Brown Ale and Pilsner, Center Of The Universe Pocahoptas IPA and Oktoberfest, Devils Backbone Vienna Lager and Gold Leaf Lager, Bold Rock India Pressed Apple Cider and Premium Dry, Starr Hill Grateful Pale Ale and Last Leaf Maple Brown, New Belgium Bretta IPA and Pumpcick, Lagunitas IPA and Tuberfest, Bell's Oatsmobile and Amber Ale, Founders All Day IPA and PC Pilsner, Victory Golden Monkey and Dirt Wolf, Southern Tier, Oskar Blues, Heavy Seas Loose Cannon IPA and Pounder Pilsner, New Holland Dragons Milk and Ichibod Pumpkin Ale, Goose Island IPA and Four Star Pilsner, Sweetwater 420 Extra Pale Ale and Hash Brown, Harpoon UFO White and UFO Pumpkin, Kona Big Wave and Pipeline Porter, & Southern Tier 2X IPA and Pumking.
Live music enhances the experience at the perfect outdoor setting for tasting some of the best craft beers.
---
EVENT SPECIAL NOTICES AND INFORMATION
It is not recommended that children attend this event.  It is designed to be a 21+ festival.
Chairs are not allowed into the venue.
Pets are not allowed into the venue.
The 31st Street Park location provides convenient parking across the street at the municipal garage.