YSC Exchange Club Oyster and Pig Roast
Date/Time
Venue/Location
Apr 29
1:00pm - 6:00pm
Camp Pendleton
203 Red Horse Dr, Virginia Beach, VA 23451 Virginia Beach, VA 23451
Ticketing Information:
$50 Per Ticket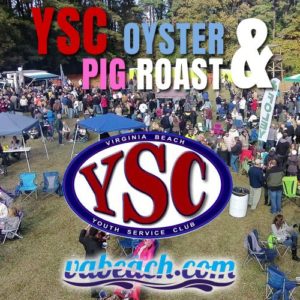 ---
THIS EVENT HAS ALREADY OCCURRED.
IT ENDED ON April 29, 2017 6:00 pm
If this is a recurring event, then we might not have the new upcoming dates in our system. Please check back later or make sure that this event has not changed names or ended permanently.
EVENT DESCRIPTION
Annual YSC (aka the "Exchange Club") Pig and Oyster Roast.
Raising money for local charities.
3500 people, all you can eat BBQ chicken, pulled pork, chopped BBQ, oysters, chili and clam chowder.
Not to mention all you can drink beer and wine while listening to the hottest band at the beach… The Deloreans.
Event Flyer:
---
EVENT SPECIAL NOTICES AND INFORMATION
There will be a 100% ID check to enter Camp Pendleton.
All party attendees will have to have a valid ID to attend the roast.
TICKET SALES ARE LIMITED & WILL BE FILLED ON A FIRST COME FIRST SERVED BASIS, NO OUTSIDE FOOD OR BEVERAGES ALLOWED, NO ONE UNDER 21 YEARS OF AGE.
ALL TICKET SALES ARE FINAL.
PHOTOS