Craft Brews Cruise
Date/Time
Venue/Location
May 17
6:30pm - 8:30pm

THIS SPECIFIC EVENT INSTANCE EITHER
DOESN'T EXIST OR HAS ALREADY OCCURRED

Jun 14
6:30pm - 8:30pm

THIS SPECIFIC EVENT INSTANCE EITHER
DOESN'T EXIST OR HAS ALREADY OCCURRED

Jul 19
6:30pm - 8:30pm

THIS SPECIFIC EVENT INSTANCE EITHER
DOESN'T EXIST OR HAS ALREADY OCCURRED

Aug 16
6:30pm - 8:30pm

THIS SPECIFIC EVENT INSTANCE EITHER
DOESN'T EXIST OR HAS ALREADY OCCURRED

Sep 13
6:30pm - 8:30pm

THIS SPECIFIC EVENT INSTANCE EITHER
DOESN'T EXIST OR HAS ALREADY OCCURRED
Ticketing Information:
$35 Non-members; $33 Members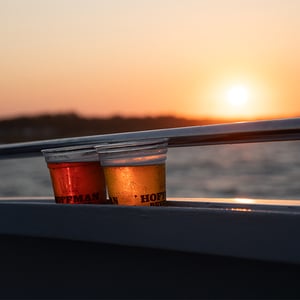 Craft Brews Cruise
was last modified:
April 10th, 2019
by
Carol Meadows
Craft Brews Cruise
was last modified:
April 10th, 2019
by
Carol Meadows
---
THIS EVENT HAS ALREADY OCCURRED.
IT ENDED ON September 13, 2019 8:30 pm
If this is a recurring event, then we might not have the new upcoming dates in our system. Please check back later or make sure that this event has not changed names or ended permanently.
EVENT DESCRIPTION
Enjoy the sunset over the water aboard the Atlantic Explorer for a Craft Brews Cruise, brought to you by our Sensible Seafood partner, Hoffman Beverage. Indulge in some of the area's best craft beers from O'Connor Brewing CO. during this two hour cruise. Snacks will be available for purchase onboard. A valid photo ID is required at check-in for this 21 and over event and boarding will begin at 6:30 p.m.
Craft Brews Cruise
was last modified:
April 10th, 2019
by
Carol Meadows
---
---
PHOTOS
Craft Brews Cruise
was last modified:
April 10th, 2019
by
Carol Meadows
WHAT'S NEW
Apparently Friday the 13th and the full moon combined for something really surprising! Our team was notified of a sea turtle crawl this morning and discovered that a loggerhead laid a nest along the beach! We checked the contents and opted to leave it in place. While we are hopeful that it could be successful, because it was laid so late it would be unusual if any hatchlings emerge. ... See MoreSee Less
So proud of the work done by the team
That happened in Sept 2 years ago in Nags Head. We stayed in a beach house and discovered 3 weeks earlier a nest was laid. Then TS Maria came through. The nest was in the third stage of development but the storm did it's damage. Still awesome to keep track of that one even though they didn't hatch!!
That is still great news! Hopefully the female loggerhead will visit our beach again earlier next year.💕🐢
Thank you for what you do 💜
Although I hate climate change, I am optimistic about conducive conditions for this nest!
Wow!! This is a late seasons nester!!! Haven't seen any females along the Georgia Coast since mid-August. Hoping it is successful! 🤞
Fingers crossed all goes well
You guys do such great works! Keeping my fingers crossed! <3
Wow! I hope they make it to the sea!
I took pictures and video at the discovery of the nest that I'm happy to share with the aquarium. Please let me know if you want them.
I just read this to my 9 year old and his question is, "Why don't they put it on a heating thing?" Meaning eggs in incubator;) I found his to be a good questioned and wondered if that has ever been done. Reasons why it can or can't be successful.
Could you keep updates on this? Up here in PA we have an Eagle that they place videos of the hatchlings when they are born to leaving the nest. Also with the Owl that visits a certain spot every year. You probably can't leave a camera, but it would be fun to see the progress. Thanks for all you do!!!!!
@VirginiaAquarium Why not ensure they hatch by temporarily relocating them to the aquarium?
Maybe she was waiting for the storm to pass?
What is the incubation period? How long from laid egg to hatched turtle?
Arlene Guiles! There were 100+ eggs! It would be exciting if they did hatch.
Patty McGlothlin Anne Coffman hope you guys saw the nest!
Valerie Layne McGowan nice read. Check out the comments.
Then why did you leave them there?
Load more
VABEACH.COM is proud to be affiliated with
GETBOOKED757.com
. The areas best and only online Entertainment Booking site. If you are interested in booking a band or entertainer, please visit
GETBOOKED757.com
and submit your gig and start receiving offers!
Want us to book it for you?
Call 757-460-9000
Craft Brews Cruise
was last modified:
April 10th, 2019
by
Carol Meadows
RECENT
THINGS TO DO

ARTICLES

The return of the Virginia Beach Dome brings great excitement for those that went to shows...
Read More
The Return of the Virginia Beach Dome
was last modified:
January 28th, 2019
by
Virginia Beach

Everyone wants to know about the hottest attractions for July in Virginia Beach. We make i...
Read More
Hottest Attractions for July in Virginia Beach
was last modified:
September 6th, 2019
by
Virginia Beach
Virginia Beach is Bicycling Heaven! Bicycling is one of the most popular outdoor activitie...
Read More
Get Around on a Bike in Virginia Beach!
was last modified:
June 14th, 2019
by
Virginia Beach

First of all when on a vacation it's always a good idea to start your day off right ...
Read More
Favorite Places for Breakfast in Virginia Beach
was last modified:
December 26th, 2018
by
Virginia Beach
Craft Brews Cruise
was last modified:
April 10th, 2019
by
Carol Meadows