Stars & Stripes Explosion
Date/Time
Venue/Location
Jul 4
8:00pm - 10:00pm

THIS SPECIFIC EVENT INSTANCE EITHER
DOESN'T EXIST OR HAS ALREADY OCCURRED

Jul 4
8:00pm - 10:00pm

THIS SPECIFIC EVENT INSTANCE EITHER
DOESN'T EXIST OR HAS ALREADY OCCURRED

Jul 4
8:00pm - 10:00pm

THIS SPECIFIC EVENT INSTANCE EITHER
DOESN'T EXIST OR HAS ALREADY OCCURRED

Jul 4
8:00pm - 10:00pm

THIS SPECIFIC EVENT INSTANCE EITHER
DOESN'T EXIST OR HAS ALREADY OCCURRED
Ticketing Information:
All concerts are free and open to the public.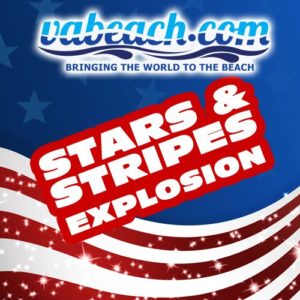 This Event is Produced and Managed by:

Please contact them for specific questions
Have a STAR, SPANGLED, Time!

---
THIS EVENT HAS ALREADY OCCURRED.
IT ENDED ON July 4, 2019 10:00 pm
If this is a recurring event, then we might not have the new upcoming dates in our system. Please check back later or make sure that this event has not changed names or ended permanently.
EVENT DESCRIPTION
Multiple live performances on oceanfront stages attract tens of thousands of visitors and residents of Hampton Roads to a star-spangled salute to this great country of ours at Stars Stripes Explosion!
Musical acts offer something for everyone with tribute bands saluting some of the biggest names in music. From 8:00pm-9:30pm, a stage erected right on the beach at 20th Street becomes the focal point for performances encompassing patriotic songs, Broadway standards, movie themes, and folk music.
The show converts into a spectacular fireworks show at 9:30pm that explodes over the ocean in a burst of colors and patterns!
Musical acts offer entertainment for all ages with tribute bands dedicated to popular acts like Bruce Springsteen, Journey, and U2 and others…
Specific Locations:
On the beach between 16th and 18th Streets (Fireworks)
17th Street Stage (Music)
24th Street Park (Music)
31st Street Park (Music)
At our main stage on the beach at 24th Street, we are delighted to welcome the Tidewater Winds. The Tidewater Winds is one of the country's few professional, non-profit concert bands performing repertoire ranging from Sousa Marches to Big Band. Their program, "Red, White & BOOM!" will feature pop, classical, Broadway, and patriotic numbers. The Regent University Singers will join The Tidewater Winds for this evening of reflection and appreciation for our country's freedoms.
All concerts are free and open to the public.
Sandstock, A Tribute to Rock & Roll, is a beach-inspired variation on "Woodstock."
National and regional tribute artists cover songs from some of the greatest rockers in history.
All performances, which are free to the public, are held on two "dueling" stages – the Hippy Dippy Stage and the Flower Power Stage – built right on the sand at 24th Street.
Grab some friends and join us for a fun-filled weekend of great live music.We will update the 2019 Entertainment Schedule as soon as it is available.
2019 Entertainment Schedule: 

7:00pm-10:00pm: Chester B's Motown Review
7:30pm-9:30pm, Red, White, & Boom!
A July 4th Celebration featuring pop, classical, Broadway, and patriotic musical performance.
Tidewater Winds celebrates the birth of our country with an American celebration of song! Join Maestro Brewington and Tidewater Winds on the oceanfront for an evening to remember! We honor our military, our history and our freedom in this patriotic celebration! Joining Tidewater Winds for the first time is legendary musician Adrian Duke. Adrian is a pianist and songwriter in the New Orleans musical tradition of James Booker & Dr. John. His voice is infused with a startling imprint of the early Atlantic sides of Ray Charles, with a touch of New Orleans blues, classic soul, and Americana. Put him together with Tidewater Winds on the 4th of July and you have one amazing evening of music and fireworks!
---
---
PHOTOS
WHAT'S NEW