Neptune's Volleyball Tournament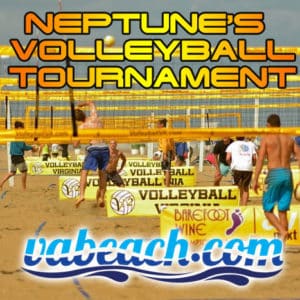 This Event is Produced and Managed by:

Please contact them for specific questions
---
THIS EVENT HAS ALREADY OCCURRED.
IT ENDED ON September 29, 2019 5:00 pm
If this is a recurring event, then we might not have the new upcoming dates in our system. Please check back later or make sure that this event has not changed names or ended permanently.
EVENT DESCRIPTION
2 v 2 and 4 v 4 play heats up the sand as men, women, and coed divisions compete for titles on the oceanfront.  Hosted in cooperation with Volleyball Virginia, numerous skill level classes are available for entry.  Set and spike your weekend to a new level by getting your piece of the beach at Neptune's Volleyball Tournament.
Games begin at 9:00am on both days.
Volleyball Virginia offers two ways to pre-register for this event – Teams can generate a printed entry form and mail in with a check or money order, or teams can enter on-line using a credit card.
For more information, please contact Volleyball Virginia at (757) 497-8282.
---
---