Hometown Heroes: Neptune's Final Toast
Date/Time
Venue/Location
Sep 30
9:00am - 11:00am

THIS SPECIFIC EVENT INSTANCE EITHER
DOESN'T EXIST OR HAS ALREADY OCCURRED
Ticketing Information:
If you would like to attend, please call the Neptune Festival office at (757) 498-0215 by September 21st for more information.  
$25.00/Adult,
$15/Children under 12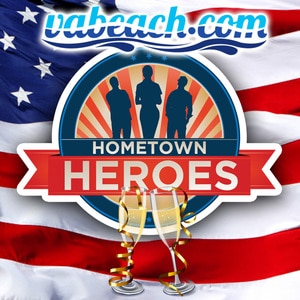 This Event is Produced and Managed by:

Please contact them for specific questions
---
THIS EVENT HAS ALREADY OCCURRED.
IT ENDED ON September 30, 2018 11:00 am
If this is a recurring event, then we might not have the new upcoming dates in our system. Please check back later or make sure that this event has not changed names or ended permanently.
EVENT DESCRIPTION
The Neptune Festival invites you to celebrate excellence at Neptune's Final Toast in honor of our Hometown Heroes. Local heroes will be honored during Boardwalk Weekend at a Sunday breakfast by the sea.
Many of those who have chosen to live in our community have also chosen to make their professions in ways that provide valuable and critically needed services to all of us. They do this every day – quietly, efficiently and effectively. The Neptune Festival has established a program to recognize these organizations each year through representatives chosen by their organizations leaders.
They are the defenders of our community and our country, our soldiers and police officers, sailors and firefighters, marines, airmen, emergency medical service volunteers and coast guardsmen, and they are those who teach our children. What they do for us all is epic in the truest sense – they are our hometown heroes.
2017 HOMETOWN HEROES:
Sergeant Jessica Arevalo
United States Army
Sergeant Jody Eliasbernal
United States Marines
Petty Officer Rebecca L. Wheeler
United States Navy
Intelligence Specialist First Class Taylor Stalnaker
United States Coast Guard
Technical Sergeant Steven A. Bond
United States Air Force
Amanda Pontifex
Virginia Beach Schools
Captain Glenn W. Burnett
Virginia Beach Fire Department
Master Police Officer Steven Thomas Downing
Virginia Beach Police Department
Gerald Kerr
Virginia Beach Department Of Emergency Medical Services
2017 Guest Speaker Adm. Phil Davidson
2017 Guest Speaker
Admiral Philip S. Davidson, Commander, U.S. Fleet Forces Command
Adm. Phil Davidson is from St. Louis, Missouri. He is a 1982 graduate of the U.S. Naval Academy. He assumed command of U.S. Fleet Forces Command/Naval Forces U.S. Northern Command on December 19, 2014. A surface warfare officer, he has deployed across the globe in frigates, destroyers, cruisers and aircraft carriers. In his most recent assignment, he was the commander, U.S. 6th Fleet and the commander, Naval Striking and Support Forces NATO, while simultaneously serving as the deputy commander, U.S. Naval Forces Europe and U.S. Naval Forces Africa.His previous command assignments include command of Carrier Strike Group 8/Eisenhower Carrier Strike Group, USS Gettysburg (CG 64) and USS Taylor (FFG 50). Ashore, Davidson has served in fleet, interagency and joint tours as a flag officer; he was previously the director, Maritime Operations, U. S. Fleet Forces Command, the senior military advisor to the Special Representative for Afghanistan and Pakistan (SRAP) at the State Department, and the deputy director for Strategy and Policy in the Joint Staff/J-5.He served earlier in his career in policy, strategy and operations billets on multiple tours with the U.S. Pacific Fleet staff, the Navy staff and the Joint Staff, and as the Navy's military aide to the vice president of the United States. Davidson is a distinguished graduate of the U.S. Naval War College. He has a Master of Arts in National Security and Strategic Studies, and a Bachelor of Science in Physics.His decorations include the Distinguished Service Medal, the Navy and Marine Corps Commendation Medal with Combat "V," a Superior Honor Award from the U.S. Department of State, and other personal, service, unit and campaign awards.
---
Sergeant Jessica Arevalo, United States Army

Sergeant Arevalo is currently assigned to 1710 Transportation Company in Emporia, Virginia as a wheeled vehicle mechanic, and has five years of service in the Army. During her service, Sergeant Arevalo has received many decorations, including the National Defense Service Medal and the Global War on Terrorism Service Medal. Thank you, Sergeant Arevalo, for your service to our community and our country.
---
Sergeant Jody Eliasbernal, United States Marine Corps
Sergeant Eliasbernal came to the Marine Corps from Corsicana, Texas, a small town south of Dallas. He studied criminal justice for two years as Navarro College before deciding to join the Marine Corps. Sergeant Eliasbernal joined the Combat Assault Battalion in Okinawa, Japan, and served in South Korea, the Philippines, and Malaysia before returning stateside. Sergeant Eliasbernal currently serves as Supply Chief at the Marine Corps Security Forces Training Center in Chesapeake, and credits his marine corps training with instilling in him a strong sense of discipline and the ability to remain calm under the worst circumstances. We salute Sergeant Eliasbernal and all of the Marines in our community.
---
Petty Officer Rebecca L. Wheeler, United States Navy
In addition to serving as the Command Armorer at the Naval Consolidated Brig in Chesapeake, Petty Officer Wheeler has worked with the Neptune Festival for several years, organizing groups of volunteers for many events. Without our military volunteers, the Neptune Festival would not be able to function, we are grateful for military partners like Petty Officer Wheeler. We salute her dedication to her country through military service, and her dedication to her community through volunteer service.
---
Intelligence Specialist First Class Taylor Stalnaker, United States Coast Guard
Petty Officer Stalknaker joined the Coast Guard in 2011. Prior to coming to Hampton Roads, he was stationed on the Coast Guard Cutter VALIANT in Florida, where he served as Master Helmsman for various operations, and served as the Cutter Surface Swimmer, a physically and mentally demanding job. Petty Officer Stalnaker is currently assigned to Sector Hampton Roads Intelligence staff, working side by side with the FBI, CBP, NCIS, and other agencies to keep our ports safe.
---
Technical Sergeant Steven A. Bond, United States Air Force
Tech Sergeant Bond began his military career in 2000, serving 6 years on active duty and the last 7 years as a member of the 203rdRed Squadron of the Air National Guard. Tech Sergeant Bond is the Non-Commissioned Officer in Charge of the Utility Shop at the Red Horse Squadron, and his duties include maintaining Contingency Wartime Asset Readiness. As a member of the Red Horse Squadron, Tech Sergeant Bond was deployed in support of Operation Inherent Resolve. Thank you, Tech Sergeant Bond, for your service to our country.
---
Amanda Pontifex, Virginia Beach City Public Schools
Amanda teaches fifth grade at Shelton Park Elementary School, and was selected as the 2018 teacher of the year from a pool of 87 nominees. Amanda has been teaching for nine years, starting at Point O'View Elementary School, and joining the staff at Shelton Park in 2014. In addition to her teaching duties, she volunteers as the school's PTA board member and secretary. She also serves her community as a volunteer with the Chesapeake Bay Foundation, and passes on her values to her students by participating with them in projects for the Foundation. We are proud to recognize Amanda as our 2017 teacher Hometown hero.
---
Captain Glenn W. Burnett, Virginia Beach Fire Department
Captain Burnett is a Navy veteran who joined the fire department in 1996, and was promoted to captain in 2006. He has served on the Virginia Beach Fire Department Technical Rescue Team and currently serves on the Hazardous Materials Team. He is also a Rescue Squad Officer for Virginia Task Force 2, and in that capacity is deployed to the scenes of natural and man-made disasters to conduct search and rescue operations. We thank Glenn for his years of service to our community and welcome him as our Fire Department Hometown Hero.
---
Master Police Officer Steven Thomas Downing, Virginia Beach Police Department
Officer Downing has served with the Virginia Beach Police Department since 2001, and currently serves as a informed patrolman and Police Training Officer at the first police precinct. He has also served as a property crimes detective and as an auto theft detective, and as a member of the Commission for Accreditation for Law Enforcement Agencies. We would like to thank Officer Downing and all of his fellow officers for helping keep our community safe.
---
Emergency Medical Technician Gerald Kerr, Virginia Beach Department of EMS
Jay joined the Virginia Beach EMS as a volunteer in 2013, as a member of the Ocean Park Volunteer Rescue Squad, and now serves as its president. He works as a trainer for future EMS volunteers at the Virginia Beach EMS Training Center, developing a program to provide trainees with much needed practice in the skills they need for their national EMS exams. In addition to his superior service with the EMS department, Jay works with the Boy Scouts, leading Explorer Post 800 and mentoring many young scouts. Many of Jay's scouts have gone on to join the Virginia Beach EMS as volunteers when they turned 18. Jay's commitment to his community makes him a true hometown hero.
---
---
PHOTOS