Hometown Heroes: Neptune's Final Toast
Date/Time
Venue/Location
Sep 29
9:00am - 11:00am

THIS SPECIFIC EVENT INSTANCE EITHER
DOESN'T EXIST OR HAS ALREADY OCCURRED
Ticketing Information:
If you would like to attend, please call the Neptune Festival office at (757) 498-0215 by September 21st for more information.  
$25.00/Adult,
$15/Children under 12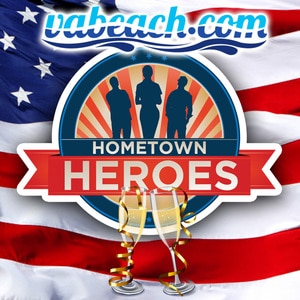 This Event is Produced and Managed by:

Please contact them for specific questions
---
THIS EVENT HAS ALREADY OCCURRED.
IT ENDED ON September 29, 2019 11:00 am
If this is a recurring event, then we might not have the new upcoming dates in our system. Please check back later or make sure that this event has not changed names or ended permanently.
EVENT DESCRIPTION
The Neptune Festival invites you to celebrate excellence at Neptune's Final Toast in honor of our Hometown Heroes. Local heroes will be honored during Boardwalk Weekend at a Sunday breakfast by the sea.
Many of those who have chosen to live in our community have also chosen to make their professions in ways that provide valuable and critically needed services to all of us. They do this every day – quietly, efficiently and effectively. The Neptune Festival has established a program to recognize these organizations each year through representatives chosen by their organizations leaders.
They are the defenders of our community and our country, our soldiers and police officers, sailors and firefighters, marines, airmen, emergency medical service volunteers and coast guardsmen, and they are those who teach our children. What they do for us all is epic in the truest sense – they are our hometown heroes.
2018 HOMETOWN HEROES
---
Sergeant Krista Lakes
United States Army
Corporal Nicholas A. Polanco
United States Marines
Petty Officer Kacie Endres
United States Navy
Petty Officer Michael DeFrancisco
United States Coast Guard
Melissa Follin
Virginia Beach Schools
Master Firefighter Daniel Mugan
Virginia Beach Fire Department
Master Police Officer Tonya A. Pierce
Virginia Beach Police Department
Christopher Bailey
Virginia Beach Department Of Emergency Medical Services
Sergeant Krista Lakes | United States Army
Sergeant Lakes was born and raised in Trenton, Ohio. She enlisted in the United States Army in 2011 as a cook, and is currently working toward a degree as an X-ray technician. She deployed to Kuwait in 2013 and served in the 371st Sustainment Brigade, where her primary mission was theater mail distribution planning, spanning 8 countries. Sergeant Lakes is currently employed with the Virginia Army National Guard 529th CSSB as a unit mobilization officer, and will deploy with her unit this fall to Iraq to support Operation Inherent Resolve, the continuing effort to combat terrorist groups operating in the Middle East. Sergeant Lakes will spend a little less than a year overseas serving her country.
Corporal Nicholas A. Polanco | United States Marine Corps
Corporal Polanco,a native of New York and graduateof Virginia Commonwealth University, enlisted in 2016, was meritoriously promoted to the rank of Corporal in 2017. He was named Marine of the Year at NAVCONBRIG Chesapeake, where he is a Corrections Specialist.He is a member of the NAVCONBRIG color guard team, and, in addition to serving his country as a Marine, serves his community through volunteering.
Petty Officer Kacie Endres | United States Navy
Petty Officer Lakes graduated from D.C. Everest High School in June of 2015, and began serving her country on August 10, 2015. She was assigned to he first command, the USS Gerald R. Ford, in December of 2015, where she was the duty armorer, issuing and maintaining all weapons for the security department. In June of 2016, she advanced to the rank of E-5, and currently works as the sectional training petty officer, qualifying and maintaining security patrolmen.
Petty Officer Michael DeFrancisco | United States Coast Guard
Originally from Long Island, New York, BM2 DeFrancisco joined the Coast Guard in 2010, beginning his career in Alaska on the Coast Guard Cutter Acushnet. Following the decommissioning of the ship, he was transferred to the Valiant in Miami Florida, where he participated in drug interdiction and migrant patrols. After a year in Miami, Petty Officer DeFranciscowas transferred to Portsmouth, Virginia to work at the Aids to Navigation Team, ensuring proper function of theAid To Navigation in the waterways throughout Hampton Roads. He is now stationed on the Eastern Shore at Coast Guard Station Wachapreague as a coxswain (kock-sun) and boarding officer. Pettyofficer DeFrancisco has recently been selected as the Sector Hampton Roads Field Unit Sailor of the Quarter, and was awarded the Commandant's Letter of Commendation.
Melissa Follin | Virginia Beach School Department
Melissa teaches third grade at The Brickell Academy for the Advanced Academics and Arts at Old Donation School.Melissa has been teaching in the Virginia Beach public school system for 14 years, starting at Holland Elementary School, where she taught first grade. Under the mentorship of the gifted resource teacher at Holland, Melissa pursued her gifted teaching endorsement, and became the giftedresource teacher at Shelton Park and Glenwood Elementary Schools. She has been at Old Donation for five years, where Principal Dr. Kelly Hedrick describes her work as "incredible," and she is a state finalist for the Presidential Award for Excellence in Mathematics and Science TeachingThank you, Melissa, for your dedication to the students of Virginia Beach.
Master Firefighter Daniel Mugan | Virginia Beach Fire Department
Since his assignment to the Communications and IT Bureau in 2013, Dan has gone above and beyond expectations in providing superior service to the department. Dan was a principle designer of the Virginia Beach Fire Department's Mobile Command Unit, Command 1, and has worked to upgrade the station alerting system, designing all of the station system layouts, managing installation, andbecoming the primary support person for the system. Because of his hard work, our city's fire department is able to respond to emergencies faster and more efficiently.
Master Police Officer Tonya A. Pierce | Virginia Beach Police Department
MPO Pierce joined the Virginia Beach Police Department in 1994 after serving in the United States Marine Corps. During her career she has worked in uniform patrol, the detective bureau, and the department's crime solvers unit, where she was the program coordinator. In 2010 she was selected asthe Southeastern United States Coordinator of the Year. She is currently assigned to the Public Affairs Office, where she has been the department's spokesperson for the past 7 years.
Christopher Bailey | Virginia Beach Department of Emergency Medical Services
Christopher is a lieutenant with the Currituck County Department of Fire and EMS, having started working in that department in 2013. He also works as a paramedic with the Courthouse Rescue Squad in Virginia Beach, saving the lives of Virginia Beach residents and visitors every day. Christopher recently joined his unit in Kinston, North Carolina to assist with relief efforts after Hurricane Florence. Thank you, Christopher, for your service to our community!
---
---
PHOTOS