Nightmare Mansion Haunted House
Date/Time
Venue/Location
Oct 1 - 31
6:00pm - 12:00am

THIS SPECIFIC EVENT INSTANCE EITHER
DOESN'T EXIST OR HAS ALREADY OCCURRED
Ticketing Information:
Admission is $9 per victim.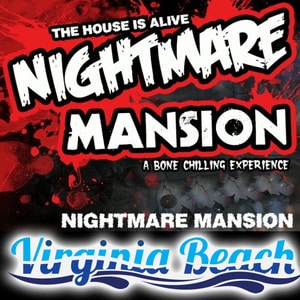 ---
THIS EVENT HAS ALREADY OCCURRED.
IT ENDED ON October 31, 2019 12:00 am
If this is a recurring event, then we might not have the new upcoming dates in our system. Please check back later or make sure that this event has not changed names or ended permanently.
EVENT DESCRIPTION
One of the country's top 10 rated haunted attractions, the Nightmare Mansion is a walk-through haunted house which is located at the corner of 20th St and Atlantic Avenue on the resort strip of Virginia Beach. The Nightmare Mansion attraction for Halloween which features live actors making this five to 10 minute tour of terror feel like a lifetime.
---
---
EVENT SPECIAL NOTICES AND INFORMATION
This Halloween event is every Friday from 6pm to 11pm
every Saturday from 6pm to 12am
every Sunday from 6 to 10pm
PHOTOS