Polar Plunge Festival
No Events Found at Polar Plunge Festival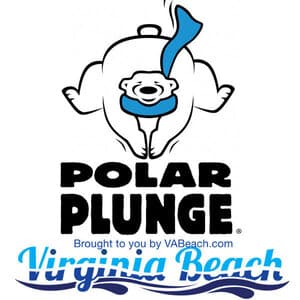 Take the plunge for The Special Olympics!

---
EVENT DESCRIPTION
Are you ready to take an ice-cold dip into the Atlantic Ocean with several thousand of the coolest Special Olympics supporters in Virginia?! We're serving up live music to get you moving, frosty craft brews, two beachfront races for all you runners, a costume contest and parade, a photo booth, VIP party, great food and all the hot chocolate and coffee you could want!
The VA Beach Polar Plunge® Festival kicks off Saturday with the SunTrust Dash & Splash Challenge (our annual 4 Miler & 1 Miler runs), a costume contest and parade down the boardwalk, the new Plunge Marketplace featuring local Virginia artisans, frosty beverages from Big Ugly Brewing, free sandwiches from Chick-Fil-A, free Wawa hot chocolate and coffee, and an icy dip into the frosty Atlantic Ocean with 3,000 of your closest friends!
Join us for a post-Plunge party at the Hyatt's Ocean 27 with music, food and drink specials to celebrate being an all-star fundraiser for Special Olympics Virginia! It's an all-day party ‒ and it's all for a great cause!
It's $100 to Plunge, but the top 5 teams that raise the most money by midnight before the Plunge are entered into a drawing for a chance to win 4 free airline vouchers to anywhere in the United States. So, if you like to travel, start raising for a chance to win! Transportation provided by United Airlines; restrictions apply.
Bringing the kids? Don't forget about the Cool School Challenge, which kicks off Friday morning!
DETAILS:
8:30 am — SunTrust Dash & Splash registration/check-in
9:30 am — 4 Miler official start time
10 am — Plunge registration/check-in
10 am — Plunge Marketplace opens – join us under the tent for live music, frosty beverages from Big Ugly Brewing & a unique shopping experience with your favorite Virginia artisans!
11 am — 1 Miler official start time
11 am ‒ 12 pm — Costume contest judging (please come in costume to be judged!)
12:30 pm — TJ Maxx Boogie Down the Boardwalk costume parade
2 pm — Official plunge start time
3 pm — Plunge Marketplace closes
---
---
EVENT SPECIAL NOTICES AND INFORMATION
WHAT'S NEW