Warbirds Over the Beach
Date/Time
Venue/Location
May 19 - 21
12:00am - 5:00pm
Military Aviation Museum
1341 Princess Anne Rd Virginia Beach, VA 23457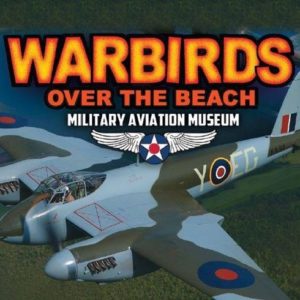 ---
THIS EVENT HAS ALREADY OCCURRED.
IT ENDED ON May 21, 2017 5:00 pm
If this is a recurring event, then we might not have the new upcoming dates in our system. Please check back later or make sure that this event has not changed names or ended permanently.
EVENT DESCRIPTION
Join us the weekend of May 19-21st, for a trip back in time to the memorable days of the Second World War. A time when everything was much simpler.
Travel to Virginia Beach, alongside the bright sunshine of the Atlantic shoreline, where German submarines once hunted merchant ships in the Gulfstream waters. Look up in the sky, where you will see fighters and bombers of our armed forces patrol the countryside to protect our homeland from the Axis forces.
You will experience all this and more during the weekend before Memorial Day with hundreds of re-enactors, actual warplanes of these times and entertainment reminiscent of the 1940s.
---
As a private, VFR, Day-just field, typically the Virginia Beach airplane terminal is not open to transient activity. Moreover, the field is a turf runway just, requiring delicate field involvement. Be that as it may, amid the up and coming flying demonstration occasion, the air terminal will be interested in single motor propeller and light twin flying machine for May 19, 20 and 21.
You may arrive whenever on Friday, Saturday, or Sunday after 8:00 AM whether you have reserved a spot with us. The airspace will be occupied with pre-demonstrate hone on Friday and Plane rides all days so screen Unicom 122.9 precisely. Know that the air terminal will be shut amid the flying demonstration from 12:30 PM to 3:30 PM each end of the week day, when there will be waivered airspace in actuality. On the off chance that you're timing is off, then we would propose that you incidentally occupy to the Currituck, NC, Airport (KNOX) or Chesapeake Regional Airport (KCPK). All air ship flying in for the show must be expelled from the field by 5 PM on Sunday the 22nd.
Stopping at the air terminal is exceptionally constrained for both autos and planes. Need air ship Visitation/Parking reservations will be given to Museum Members (Memberships might be acquired by calling our Gift Shop at 757-721-7767). We will start tolerating demands for reservations on Friday, May fifth. You may call 757-721-7767. Give your name, flying machine sort and N#, souls on load up, and telephone number. You will be inquired as to whether you are a Museum part, have perused this notice on line and you will be inquired as to whether you have had encounter working on grass inside the most recent 12 months.
Going to flying machine will be marshaled for stopping onto the crosswind runway. You should bring your own particular chocks or secure stakes if necessary. You may camp under your air ship, yet no pit fires are allowed. Stopping is inside the waivered range, so there is no get to or seeing from this region amid the waivered day and age (1-3PM Sat/Sun). At the point when this stopping is full, we won't have the capacity to acknowledge any extra flying machine, so hold early.
Memorable Military Aircraft painted in military markings will be sans given stopping close to the show line. On the off chance that you have a Military air ship from the principal half of the most recent century and might want to fly noticeable all around show, contact the Director for more data and conceivable consent for incorporation. Kindly don't be frustrated, as we have restricted dispensed time for demo and photograph flights. Those meeting air ship taking an interest will be given fuel for the flying demonstration bit of their flight.
For any inquiries or illumination with respect to this approach, contact the exhibition hall chief at director@aviationmuseum.us. For additional data about the runway, survey www.AirNav.com\airport\42VA on the Internet. The Unicom recurrence is 122.9 and you can phone for climate and winds from AWOS at (757) 204-2683. The runway is East/West, roughly a mile long, and 200 feet wide grass turf in great conditions. All take off and arrivals are at the proprietor's own hazard. There is no lighting and after dull operations are restricted. All movement examples are toward the South to maintain a strategic distance from clamor grumblings. Air ship showing flights of Military flying machine doing low passes will be led both end of the week days from 12:30 to 3:30 PM. As of now, the air terminal will be shut with FAA controlled waivered airspace as a result.
Transportation from the airplane terminal to oceanfront lodgings can't be ensured. For rental autos conveyed to the air terminal call Enterprise Rent-A-Car at (757) 721-4499. Disclose to them you are with the Military Aviation Museum occasion. For inn facilities contact the Holiday Inn Virginia Beach/Norfolk Hotel and inquire as to whether they have an end of the week rebate bundle for going by pilots going to the flying demonstration. We have masterminded a predetermined number of inn rooms to be held.
---
WHAT'S NEW