Haunted Hunt Club Farm
Date/Time
Venue/Location
Oct 3 - 31
6:30pm - 11:30pm

THIS SPECIFIC EVENT INSTANCE EITHER
DOESN'T EXIST OR HAS ALREADY OCCURRED
Ticketing Information:
View the website for more information. http://www.hauntedhuntclubfarm.com/
Call and ask about their VIP Group reservations and fundraising opportunities. In addition to all this fun Hunt Club Farm also offers Amusement Rides and Concessions. Don't forget to visit the Farm Market to pick out your Perfect Pumpkin.
A true Halloween favorite in Virginia Beach!

---
THIS EVENT HAS ALREADY OCCURRED.
IT ENDED ON October 31, 2019 11:30 pm
If this is a recurring event, then we might not have the new upcoming dates in our system. Please check back later or make sure that this event has not changed names or ended permanently.
EVENT DESCRIPTION
Bring the family all all of your friends to Virginia Beach's original Haunted Hayride! This is no ordinary Halloween event at Hunt Club Farms featuring 3 haunted attractions with over 75 live actors!  Certainly you have heard of the Haunted Hayride. Be prepared as you climb aboard for your trip through their haunted woods, but only if you dare!
Then it's time to experience the Village of the Dead – Visit this Med-EVIL village, where the townfolk dwell forever!
Brace yourself for the Field of Screams -and walk through the haunted cornfield of terror!
It's everyone's go-to place for their Halloween Pumpkin, and boy do they have the best selection!
Haunted Hayride
The festival's most-feared attraction, the Haunted Hayride – Virginia Beach's original hayride – will take voyeurs on a bumpy ride through the deep, dark woods of Haunted Hunt Club Farm. Climb aboard for a chilling look at the "Seven Deadly Sins" as dozens of diabolical degenerates put their vices of wrath, greed, sloth, pride, lust, envy and gluttony on display and beg for your repentance. Don't think your friends on the hay wagon can protect you from the murderous mayhem. The path through these woods is narrow, especially the one through the decrepit old barn, located just past the farm's ominous graveyard. And our tractors have been known to break down at the most inopportune times. All we can say is: Be ready and beware. These grounds are crawling with sinners searching for someone to save their sick souls. Will you be among the chosen?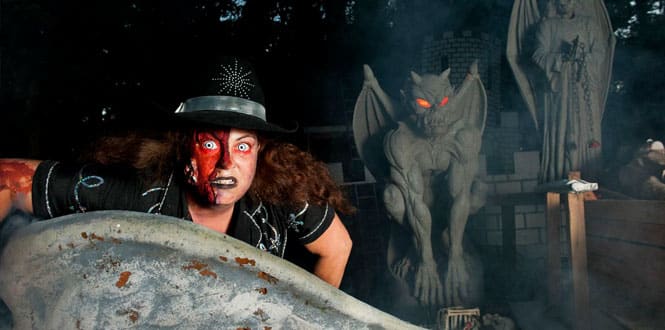 Field of Screams
There are few things creepier than a cornfield at nighttime, and the Field of Screams is no different. Everyone around these parts knows that more than corn comes out of the ground in this field. Revered as the festival's most up close and personal event, the dark and winding maze puts thrill-seekers and flesh-eating zombies on the same narrow, dimly-lit path of peril. And while nothing in here will officially harm you, we can't promise the corn-stalking immortals won't try to make you one of their own. Flesh, brains and blood? That's what's for dinner at this attraction, and the zombies eagerly await your arrival…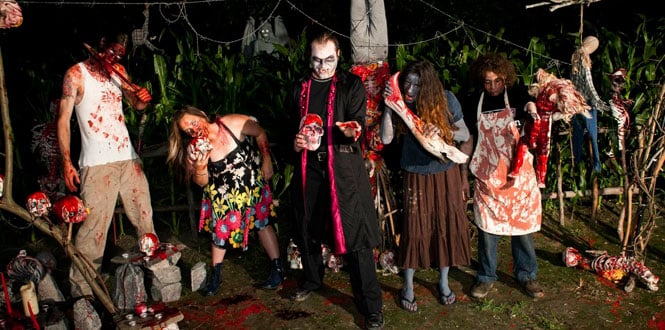 Village of the Dead
Take a trip to the Village of the Dead, but you might want to plan to stay a while, as the villagers focus on captivity in all of its various forms. How will the savage village inhabitants imprison, confine and enslave visitors of their torturous town of terror? Will it be with rope? Chains? Cuffs? Traps? Or the ultimate captivity… A coffin? Will you be one of the lucky ones to escape restraint and tell your twisted tale? Or will the village be your final resting place? Find out just how far these barbarians will go during this walk on the wild side.
---
---
PHOTOS
WHAT'S NEW