East Coast She Crab Soup Classic
Date/Time
Venue/Location
Apr 7
12:00pm - 3:30pm

THIS SPECIFIC EVENT INSTANCE EITHER
DOESN'T EXIST OR HAS ALREADY OCCURRED
Ticketing Information:
The East Coast She Crab Soup Classic is a ticketed event.
A limited number of tickets will be available.
Buy ticket s at the entrance to the event.
Children 12 and younger who are not sampling and are accompanied by an adult are free.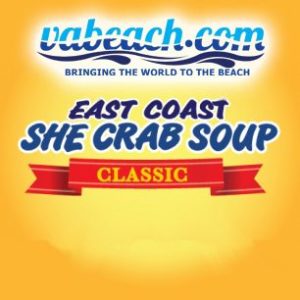 This Event is Produced and Managed by:

Please contact them for specific questions
---
THIS EVENT HAS ALREADY OCCURRED.
IT ENDED ON April 7, 2018 3:30 pm
If this is a recurring event, then we might not have the new upcoming dates in our system. Please check back later or make sure that this event has not changed names or ended permanently.
EVENT DESCRIPTION
ALERT!
VIRGINIA BEACH, Va. – Based on predicted inclement weather conditions, Saturday's East Coast She-Crab Soup Classic sponsored by Culinary Institute of Virginia, College of Culinary Arts of ECPI University, is being moved to the ballroom of the Virginia Beach Convention Center, 1000 19th Street in the resort.
Box office opens at 11 a.m. and doors open at noon.
---
An open competition among local restaurants, the East Coast She Crab Soup Classic focuses on one of the region's most-loved seafood delicacies…. She-Crab Soup. This highly identifiable cuisine has been a staple of local menus for decades.
Restaurants serve their individual recipes and compete for People's Choice Awards, determined by the ballots of those attending. Critic's Choice Awards also are given by a panel of four leading regional cuisine experts.
Past Participating Restaurants Include:
11th Street Taphouse & Grille
Blue Seafood & Spirits
Bucketheads Beach Grill
Burtons Grill
Captain George's Seafood Restaurant
Circa 1918
Citrus Breakfast & Lunch
C.P. Shuckers
Freemason Abbey
Irwin's Pharmacy & Fountain
Lynnhaven Fish House
Mahi Mah's Seafood
McCormick & Schmick's
Murphy's Irish Pub
Passion the Restaurant
Roger Brown's Restaurant & Sports Bar
Scotty Quixx
Tradewinds
Tubby's Tavern
Westminster-Canterbury on Chesapeake Bay
Winners for 2017
Critic's Choice:
1st Place – Blue Seafood & Spirits
2nd Place – Passion the Restaurant
3rd Place – Freemason Abbey Restaurant
People's Choice:
1st Place – Freemason Abbey Restaurant
2nd Place – Blue Seafood & Spirits
3rd Place – Murphy's Irish Pub
***The final lineup of restaurants for this year's event is subject to change.***
---
EVENT PARKING
Parking is conveniently located in the following locations:
25th Street Parking Garage
336 25th Street
Virginia Beach, VA 23451
757-425-3555
---
EVENT SPECIAL NOTICES AND INFORMATION
Dogs and beach chairs are not permitted in the tasting area.
The event is held rain or shine.