Seniors Gala
Date/Time
Venue/Location
Sep 4
7:00pm - 10:00pm

THIS SPECIFIC EVENT INSTANCE EITHER
DOESN'T EXIST OR HAS ALREADY OCCURRED
Ticketing Information:
Tickets will go on sale August 1, 2019
Tickets are $15/person, and reservations with payment must be made in advance. Tables of 10 may also be reserved for $150. Call the Neptune Festival office to make your reservation at (757) 498-0215.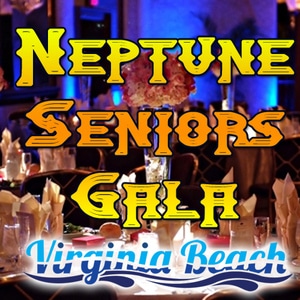 This Event is Produced and Managed by:

Please contact them for specific questions
---
THIS EVENT HAS ALREADY OCCURRED.
IT ENDED ON September 4, 2019 10:00 pm
If this is a recurring event, then we might not have the new upcoming dates in our system. Please check back later or make sure that this event has not changed names or ended permanently.
EVENT DESCRIPTION
Don't settle for another night of bunco or bridge.  Dust off those dancing shoes and head out for a night of big band sounds, delicious food, and of course, a visit from the King himself as you jitterbug your way through Neptune's Senior Gala.  Held at the Virginia Beach Convention Center, your night out on the oceanfront will feature live music playing your jukebox all night long.
A night of Big Band orchestral sounds by Glen Boswick and the Sound of Swing makes this evening for area seniors a must. Join King Neptune and the entire Royal Court for an evening of
jitterbugging and waltzing the night away.
Don't forget to foxtrot your way to the gorgeous buffet laid out in case you manage to work up an appetite throughout the evening.  Dinner? Dancing? Cocktails? Oceanfront? What more could you ask for in a night out with Neptune?
This is one evening Hampton Roads Seniors will not want to miss…
---
---
EVENT SPECIAL NOTICES AND INFORMATION
All attendees must be over the age of 62, and are subject to ID check at the door.
No refunds.