Virginia Beach Restaurant Week
No Events Found at Virginia Beach Restaurant Week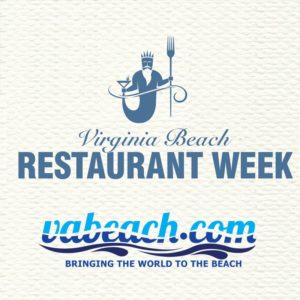 Check out Lucky Oyster and Eurasia. They are our favorites!

---
EVENT DESCRIPTION
Virginia Beach Restaurant Week is a culinary event that takes place once a year in Virginia Beach and is held by the Virginia Beach Restaurant Association.  Chefs from each participating restaurant showcase their creativity through the restaurants offering specially priced lunches and dinners.
Visit the various participating Virginia Beach restaurants as master chefs serve up innovative menus featuring their best culinary creations.
Each year Restaurant Week  grows and promises to be the most exciting ever with over 90 participating restaurants.
Some participating restaurants include:
General Booth
Lucky Oyster Seafood Co.
Whiskey Kitchen
Great Neck
Ammos Authentic Greek Cuisine
Coastal Grill
Havana at Great Neck
Pasta e Pani
Sirena
The Pearl Club
Tubby's Tavern
Central 111
YNot Italian – Great Neck
Hilltop
Aldo's Ristorante
Baker's Crust Artisan Kitchen
Baladi Mediterranean Cafe
Burtons Grill
Cobalt Grille L D
Cotton Southern Bistro
Fire and Vine
Mizuno Japanese Restaurant
Nawab Indian Cuisine
No Frill Bar and Grill
Outback Steakhouse – Hilltop
The Melting Pot
Kempsville
Mannino's Italian Bistro – Kempsville
Outback Steakhouse – Kempsville
Swan Terrace Grill
Woody McGees Barstro
YNot Italian – Kempsville
Lynnhaven
Braise
FreshCrust Trattoria
Huddle House
Jose Tequila's
Peter Chang
The Route 58 Delicatessen
Northampton
1608 Crafthouse D
Red Mill
Boardwok Restaurant
FIREBREW Bar & Grill
La Bella Italia – Redmill
Masala Bites
Outback Steakhouse – Red Mill Commons
The Landing
Whiskey Kitchen
Resort
11th Street Taphouse Bar & Grille
Abbey Road Pub and Restaurant
Bella Monte Restaurant & Enoteca
Catch 31 Fish House & Raw Bar
Chix Seaside Grille
CHOPS Seafood & Steaks
CROC'S 19th Street Bistro
EAT – An American Bistro
Esoteric
Eurasia Cafe
Fusion Restaurant and Lounge
Ice House Restaurant
Il Giardino Ristorante D
Isle of Capri
La Bella Italia – Laskin Road
Lager Heads Restaurant
LunaSea
Mahi Mah's Seafood Restaurant
Mannino's Italian Bistro – Atlantic Ave.
Mayflower Cafe L D
Murphy's Irish Pub
Rockafeller's Restaurant L D
Rudee's on the Inlet Restaurant & Cabana Bar
Salacia Prime Seafood & Steaks
Scrambled
Shoreline Grill D
Surf Club Ocean Grille L D
Tautog's Restaurant
Terrapin Restuarant D
Thai Arroy
The Green Cat
Waterman's Surfside Grille L D
Zoes Steak and Seafood Restaurant D
Shore Drive
Agave Bar and Taqueria
Bubba's Seafood Restaurant
Froggies Cantina by the Bay
Green Parrot Grille
Hot Tuna Bar & Grill
Lynnhaven Fish House
One Fish-Two Fish
Restaurant Ole
Thirty 7 North
Tradewinds Restaurant L D
---
---
EVENT SPECIAL NOTICES AND INFORMATION
Virginia Beach Restaurant Week features two course lunches starting at $10 and three course dinners starting at $20.
WHAT'S NEW