Virginia is a lovely state filled with amazing adventures to go on and many things to do. As a result, this state is frequently on the list of the best places for people to go on vacation with their romantic partners. Does Virginia Beach hold up as a great destination among all types of relationships, though? We'll show you why Virginia Beach is well-suited for people of all ages, especially if you have an older partner.
The Benefits of Exploring New Places Together for Age-Gap Relationships
Before we look at the reasons that Virginia Beach is such a good place to be for individuals with an age-gap relationship, we have to consider the benefits of traveling at all. After all, older people are generally set in their ways, or, at least, that's the common myth surrounding them. Exploring new places with an older or younger partner can be highly beneficial. For one thing, traveling to a new place like Virginia Beach can help you get to know your partner on a deeper level. Remember that age-gap relationships are not all that common. Younger men will often use a dating website as a way to chat with older women to give themselves the highest chance of romantic success here. The same works for any other reason you are looking for a partner for life, travel, or whatever. While dating sites are a great place to start and develop a relationship, it's hard to learn about someone until you spend some time in the same physical space.
That's why going on a vacation is such a good idea; not only do you get away from your regular life, but you also get to see what your date is all about. Traveling helps you learn about your partner and how they handle frustrations while also letting you learn about yourself, too. Also, if you're the younger person in the relationship, you can benefit from having an experienced travel companion by your side on the journey. Other benefits include building new experiences with each other and having the unique opportunity to see places through the eyes of a companion that is either older or younger than you. All in all, the reasons for traveling to new places with someone you're dating are immense.
5 Best Places to Visit in Virginia Beach for Age-Gap Couples
After you have met a partner and decide that you wish to go on vacation with one another, it's time to set a date and get some tickets. Virginia Beach is a unique place with many lovely attractions to visit during your time in the area. Given the age gap between you and your partner, it's important to take both of your needs and desires into account. We've come up with five great places to visit in Virginia Beach!
Relax on Virginia Beach's Sands
Whether you're young or old, relaxing on the beautiful beaches in Virginia Beach is something that everyone can enjoy. Soak up some rays, swim in the water, and go on a nice sunset walk. You just have to make sure you visit in-season, though!
Virginia Museum of Contemporary Art (MOCA)
If you find that you are less of a beach body and more of an inside person, then the Virginia Museum of Contemporary Art is the perfect place for you to spend time with your date. Browsing the museum, you will both see amazing paintings and art spanning various media. One of the most popular exhibits includes art made in Virginia, allowing you to see art that is not anywhere else in the world.
Virginia Museum of Contemporary Art

Go Fishing with Your Partner
Virginia Beach is a lovely place to indulge in some of your hobbies, too. Among them, fishing is one of the best options in which you can partake. The waters off the coast are home to many types of fish, and you can even charter boats to take you out on the water for unique experiences!
Eat at Award-Winning Restaurants and Bars
As a popular vacation area, Virginia Beach is home to some downright incredible bars and restaurants. Whether you like seafood or you're looking to try some signature drink concoctions and enjoy the nightlife, this city will work well for you both.
Defy Age and Do Something Wild, Like Ziplining
Who says older people can't enjoy themselves by doing something wild? You can defy age and do something crazy fun like zip lining, renting boats, or dancing the night away in a club! Check out AdventureWorks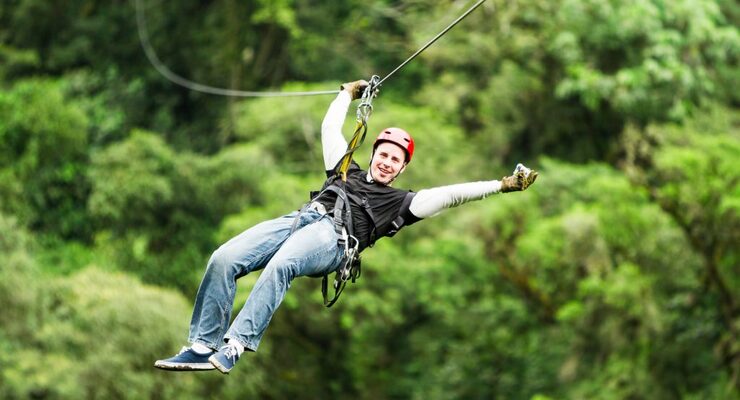 These areas are all perfect places for you and your partner to spend time in Virginia Beach. Although age-gap relationships are often maligned, they can be a lot of fun if you use the right method to meet a date. Once you have enraptured a romantic partner, it's a simple matter to go on an excursion from which you will both benefit. In Virginia Beach, you can indulge in any number of great dates, from spending time in the warm waters to partying like a younger person. Bring your age-gap match along with you and have the time of your lives!