Virginia Beach is not only the largest city in Virginia, it is by far the most happening place in the state. From having the world's longest pleasure beach, an award-winning boardwalk, a cosmopolitan downtown know as Town Center Virginia Beach, more than 35 miles of ocean and bay beaches and the most visited nature park in the state, it's no question as to why more than 3 million people visit this exciting resort city ever year.
Days in Virginia Beach begin and end at the boardwalk along the Oceanfront. Joggers love to hit up the 3-mile boardwalk in the early morning hours as the sun rises over the Atlantic. As more and more folks wander out of their hotel rooms to stake a place in the sand, the beach comes to life, with colorful beach towels dotting the wide sandy beaches, families on surreys cruising down the boardwalk and friends meeting up for a chat, a surf, swim or maybe just a stroll. With beaches wider than a football field, there's plenty of room to stretch out on the sand, throw a Frisbee or build a sandcastle or two. There is a special place at the beach for everyone!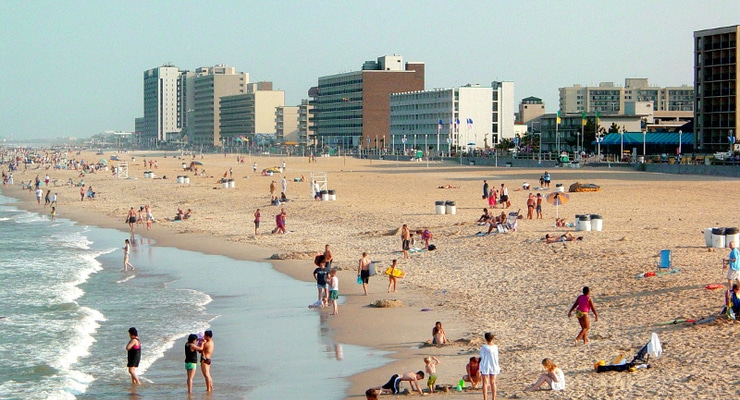 Non-Stop Action and Things to Do and See Everywhere!
The Virginia Beach oceanfront is always a flurry of activity throughout the day and long into the night, when people flock to the boardwalk for oceanfront dining, live music and family fun. During the summer, Beach Street USA takes over the Oceanfront with nightly entertainment and festivals fun for the whole family. Fireworks light up the sky many summer evenings in July and August, and multiple special events and festivals bring even more activity nearly every weekend.
In a city as large and diverse as Virginia Beach, you never know where the day or even the night might take you. Maybe a day golfing at one of the championship courses nearby, kayaking along pristine coastal marshes, swimming with a friendly bottlenose dolphin or learning about the first colonists who set foot on American soil. Take a little journey West about an hour away from the beach and you could be riding the world's tallest, floorless rollercoaster, reliving a Civil War battle or exploring a Colonial village at Jamestown.
Virginia Beach and the surrounding region are very rich in history, culture, the arts and—most importantly— fun. Take the family for a day of world-class museums and important historic sights complement amusement parks and entertainment venues, while festivals throughout the year celebrate everything from art to she crab soup to wines made in Virginia. All this action and fun with the beautiful backdrop of an endless ocean and peaceful bay make Virginia Beach one of the best oceanside getaways in the country. From the eclectic one-of-a-kind shops and boutiques to gourmet restaurants, you'll never have a dull moment in Virginia Beach!