It's an excellent time to date. We aren't any longer afraid to act on our romantic dreams, even if past generations previously suppressed them. More spouses are opting for polyamorous relationships, in which they are not sexually monogamous with their partner. Honesty and transparency are the main pillars of polyamory.
The popularity of polyamorous relationships is growing every day because it offers emotional satisfaction and sexual diversity. If you would like to spice up your relationship, you can find multiple partners at a reputable polyamorous relationship dating site and have a whale of a time. Online dating has made it easier for people who would date more than one person with the informed consent of the involved partners. You can now find hundreds of thousands of potential partners in the comfort of your home. Once you have found compatible partners, here are some date ideas for you in Virginia Beach and The ViBe District.
Sandbridge Is a Scenic and Romantic Trip
Start with an afternoon snack at Margie & Ray's if your date hasn't been there before. Margie and Ray's, which has existed since the 1960s, has been a Sandbridge icon, serving a seafood-centric menu that boasts a unique she-crab stew in Tidewater. When visiting Sandbridge, you must try Margie and Ray's fresh seafood and community atmosphere.
For the main dish, serve it at Blue Seafood and Spirits. The owner of this facility has worked hard to establish a reputation for serving some of the most delicious, fresh seafood. The mood is enhanced by the stylish, French bistro-style décor, which matches the extensive menu.
Finally, stop by Baja Restaurant for a drink, a romantic sunset view, and live music. Tourists and locals alike appreciate Baja for its rear terrace, which affords stunning views of the twilight across the bay. In addition, Baja showcases live music performances and are always a bustling spot for a night date in the Sandbridge area.
The Virginia Beach Boardwalk at Sunrise is Very Romantic
The Drifters' famous song "Under the Boardwalk" is full of lovely coastal imagery. If you arrange a romantic getaway to the Virginia Beach Boardwalk, you will find all of these possibilities and more. The Virginia Beach Boardwalk is a 3-mile-long, 28-foot-wide board and is a mainstay of the entire beach area.
You will find modern twist restaurants and hotels on one side of the board. On the other side, you will find an outstanding, crystal clear view of the waters of the ocean. If you're a new couple, you'll also enjoy checking out a few of the various pubs and nightclubs that your Virginia Beach visit has to offer.
The Military Aviation Museum Is Unique And Fun
This one-of-a-kind museum is home to a still-flying World War I and World War II military aircraft collection. Over forty thousand people travel from all over the world each year to see these planes. So take a once-in-a-lifetime fly with your love as a polyamorous couple, and rest assured that their other partner will never beat you at this game of romance!
The Chrysler Museum of Art Is a Must-See for Art Lovers
Located in nearby Norfolk, you'll be amazed by the sheer scope of the numerous pieces on display at the incredible Chrysler Museum of Art as you take a nice walk from exhibit to gallery on your romantic date. The museum has drawn a lot of attention because of its outstanding collections, including a Tiffany glass collection, antique painting galleries, and fifteen special visiting exhibitions.
A Dolphin Kayak Tour at Sunset Is a Great Romantic Activity
An evening dolphin-watching tour is a terrific romantic activity. With your sweetheart, going sunset kayaking on the Chesapeake Bay will be one of the most memorable things you'll ever do together! After a quick paddling lesson, you'll be set to go for a kayak around the Virginia coast.
You can glimpse Atlantic bottlenose dolphins when heading to First Landing State Park. Visit the Chesapeake Bay Bridge Tunnel and the Cape Henry Lighthouses, too. There is no need for any kayaking experience, and all required equipment is provided.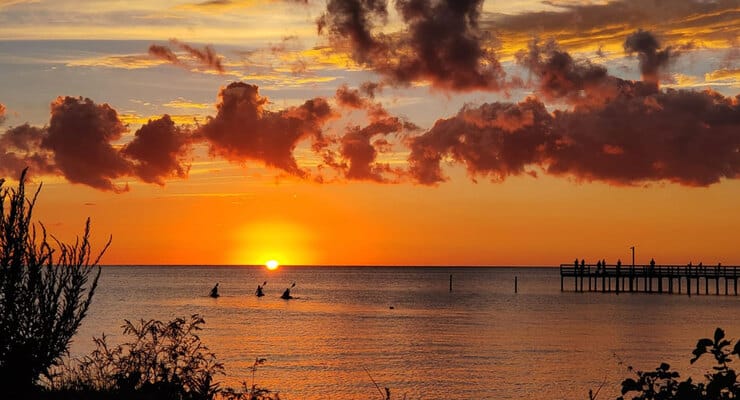 Create Something Together at Muse Paintbar
What could be more enjoyable than picking up a new talent on a dating night in the ViBe area? At Muse Paintbar, you can collaborate to create something special together.
Each activity has a different flavor. Thus, depending on when you visit, you could paint something fun (like a puppy image) or something inspirational, like a woodland picture.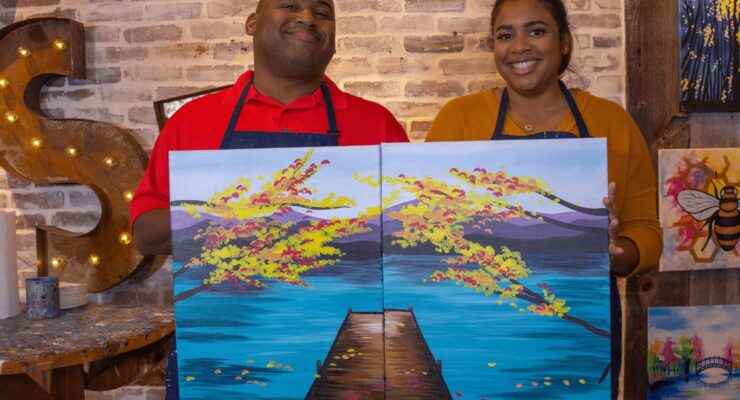 Go to Virginia Aquarium & Marine Science Center
The main attraction at this well-known aquarium is a three hundred thousand-gallon tank that houses rays, sharks, and other sea creatures. A walk-through tunnel as you glare at various aquatic animals will also be a fantastic experience. The many creatures from hundreds of different species will indeed delight your heart!
You'll be spoilt for choice in The ViBe District, with so many extraordinary events and date ideas. But be warned: any of the above-mentioned romantic dates ideas will set the bar for future romance-trip possibilities!