The perfect three-day weekend tour in Virginia Beach starts and ends with enjoying the beach for some vacationers. In all fairness, VA has some of the most beautiful sandy shores in the country.
Still, to be clear, there's a lot to do in VA Beach besides touring the city's coastline. Here, we'll list some of the best ways you can enjoy your staycation in Virginia without putting a dent in your wallet. Sounds good? Let's get started.
WHERE TO STAY
The beauty of traveling to a coastal city is that you don't have to stay at a hotel. Case in point: you can lodge in one of these places while in Virginia Beach.
Top-Rated Hotels
Beach Home Rentals
A campground or RV Park
Bed and Breakfast Hotels
The best hotels in VA Beach cost between $150 and $500 per night. The Hilton Garden Inn, DoubleTree by Hilton, and Four Points by Sheraton are three of the best-rated hotels in the city.
Other excellent hotels to consider are the Marriot Virginia Beach Oceanfront, the Cavalier Hotel, and the Best Western Plus Sandcastle Beach.
The Ocean Beach Club
The Ocean Beach Club is located on the north end of the city. It's family-friendly, located close to the beach, and jam-packed with amenities like gyms, coffee markets, indoor swimming pools, and conference halls.
The Four Points by Sheraton Hotel
The Four Points by Sheraton Hotel is another excellent place to stay if your to-do list includes golfing, biking and surfing. Indeed, this hotel delivers some of the most pristine views of the Atlantic Ocean.
That's because nearly all rooms come with private balconies. You can breeze as you watch the ocean day and night. And if you're free, you can visit the Virginia Aquarium, which is a 5-minute walking distance from the resort.
As mentioned, this hotel also allows you to rent a bike at its gift shop for easy movement around the city during your weekend getaway.
DoubleTree by Hilton
This hotel is marvelous. First, it's conveniently located within the beach. Second, you could spend your entire weekend indoors and have a delightful time. This is why. The hotel has indoor and outdoor swimming pools, fitness facilities, business centers, tennis courts, childcare services, and playgrounds for kids.
Of course, it also features restaurants and a bar where you can drink and watch sports. Speaking of sports, you can browse the Internet to discover the most secured and trusted online sportsbooks for NFL using the hotel's free WiFi. Sports betting has been legal in Virginia since July 1, 2020, after all.
WHERE TO VISIT /WHAT TO DO
Spending a lot of time outdoors in these COVID times can be difficult. But if you're in a position to go outdoors while in VA Beach, these are the best places to visit:
Walk Along the Virginia Beach Boardwalk
Most tourists in Virginia Beach can't leave without enjoying the city's glorious beaches. Don't be the exception. The city has a long coastline filled with soft, golden sand with gorgeous views of the Atlantic Ocean and five-star hotels.
The Virginia Beach Boardwalk—a paved walkaway—stretches for three miles. This gives you enough space to walk casually along the beach, visit restaurants, bike, skateboard, and shop at candy shops along the way.
The Virginia Aquarium and Marine Science Center
The Virginia Aquarium and Marine Science Center is an excellent place to go with your family and friends. For starters, it has a scenic glass-made aquarium featuring some of the most popular species in the marine kingdom: rays, sharks, seals, turtles, and otters.
It also features some exception animals like Komodo dragons. Additionally, it has a "Red Sea Tunnel" that gives you a 36-degree view of the aquarium. On the flip side, this science center has a forested park.
And this isn't your average biking park. It has swinging stairs, ziplining tools, aerial walks, and other tools for the perfect adrenaline-inducing activities. There's a caveat: the adventure park charges for its aerial climbing and ziplining activities.
Take a Boat Tour
Being a coastal city, Virginia Beach is an excellent place to relish your favorite water-based hobbies. You can take a boat tour to watch whales. Or you can try out kayaking with a friend.
Whale watching is best done in the early months of the year. However, other activities like jet skiing and riding watercraft can be enjoyed throughout the year.
Visit the Cape Henry Lighthouse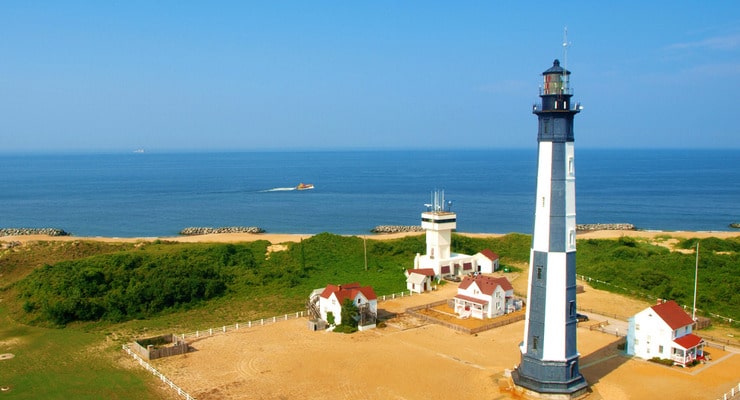 The Cape Henry Lighthouse has a long and interesting history. It was commissioned by President George Washington and launched in 1792, becoming the first government-sponsored lighthouse in the country.
Owing to that backdrop, the Cape Henry Lighthouse is a favorite spot for tourists. People visit the tower to climb to feel part of its history and experience spectacular VA Beach views. That said, the lighthouse is located within a military base, and you must agree to a security check before you can visit.
Checkout First Landing Park
The First Landing Park is arguably the most popular in VA Beach. That's because of its historic importance: First Landing State was the first-place English colonists first step foot on arrival in the US.
It's located in Cape Henry, so you can combine this trip with your tour of the Cape Henry Lighthouse. Being a State Park, you're bound to have a great time there. You can walk along its sandy beaches. Or you can stay within the park for biking, boating, and camping.
---
WHERE TO EAT
We'll admit—a three-day trip is too short to sample all the restaurants in VA Beach. If you're a foodie, compare some of the restaurants listed below and check-in at several of them.
Seafood Food Restaurants
Now that you plan to visit museums, parks, and malls, you might want to grab a quick meal in between your trips. In that case, check out Lucky Oyster Bar—it's located along General Booth Boulevard.
Ice Cream Shops
If you're staying at a hotel with plenty of delicious food, you might not want to spend additional money at fast-food restaurants. However, you can always treat yourself to a sundae, candies, fudge, or ice cream.
VA Beach is home to lots of beautiful ice-cream shops. Check out Ben and Jerry's on the Oceanfront Central area, Confetti Caffe & Gelato at the town center, or Sweet Frog in the Oceanfront North.
Vegan Restaurants
Virginia Beach might be home to lots of seafood restaurants. But if you only eat vegan meals, you don't need to compromise during your visit. Instead, take a trip to Atlantic Avenue and look for the Becca Restaurant. And if you're in the Oceanfront Central area, check out Harvest or Commune restaurants.
Breweries and Bars
Wondering where you can enjoy a beer with friends? Check out Back Bay Brewing, one of the best-rated breweries in Virginia Beach. It's located on Norfolk Avenue in the Oceanfront area. Other excellent options include the Chesapeake Bay Distillery and Smartmouth Pilot House—all in the Oceanfront region.
Coffee Shops
Some people enjoy beer. Others would prefer coffee all day and night. If you're a coffee fan, you'll feel overwhelmed by all the coffee shops in VA Beach. Check out these top-rated shops: Bad Ass Coffee Company, American Brew, and Java Surf to make your work easy.
Your Turn
If you're planning to visit Virginia Beach soon, get ready to create loads of memories, eat plenty of seafood, and visit many beautiful places. The best part: many of the most attractive places to visit in VA Beach are free or low-cost. Some go ahead. Make a plan and visit some of the places we highlighted above.