There is something so relaxing and romantic about the beach—the salty breeze, the soothing sound of crashing waves, and the beautiful view of sunset or sunrise. It's no wonder why beaches are a hotspot for romantic date ideas, especially for seniors.
And perhaps one of the most romantic cities you can find in the US is Virginia Beach. After all, it is a one-of-a-kind Resort City. Sometimes, however, even senior singles retiring and living in the most romantic place can struggle in meeting new people and finding someone to date.
Not to worry, though, we listed 5 solutions on how to find a date in Virginia Beach and plan a romantic time and activities you can do to get closer together.
Visit a Dating Site
If you want to quickly find a date in Virginia Beach, you need to go online. This is especially true for the seniors who don't have the same energy to go hunting for a date. Dating apps and websites have become the go-to place for meeting people. It is convenient, easy to use, and quite effective in finding someone who's also looking for a date in Virginia Beach and have fun. Using Flirt.com review you can be sure that this service provides you with affordable dating options, shows that this particular site has many active users, so you decide if it's a good fit for your desires. Signing up is easy, and you can conveniently find a match, depending on your preferences, for instance, body type, age, and location. From there, you can simply chat with someone and see if you have a connection. Otherwise, you can simply move on to the next potential date without the awkwardness.
Visit Bars and Restaurants
Being a popular and lively place, Virginia Beach is dotted with numerous bars and beaches along the sandy shores and even within the city.
You can visit your favorite restaurant during dinner, take your morning coffee near a café and possibly meet another lonely senior, or enjoy a beer or a glass of mine as you talk and get to know fellow customers.
If you already have a date you found on a dating site, bars and restaurants also make for a perfect romantic date night. Candlelight dinner with the soothing sound of waves crashing, or a romantic sunset brunch with a stunning beachside view on some restaurant.
Watch a Free Movie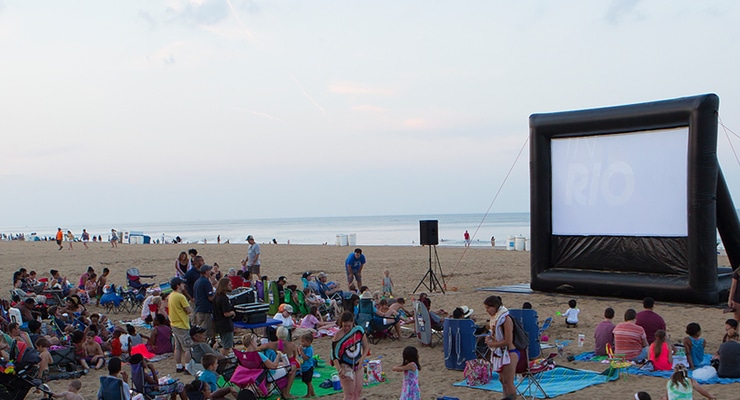 People love a good movie. And perhaps you can even find someone watching alone and possibly score a date.
Virginia Beach offers several movie events, whether near the beach or within the busy city. For one, the "Movies in the Plaza" event is a wonderful and romantic date idea you can try. It happens every Saturday evening after a romantic sunset from July to August.
While the event features family-friendly outdoor cartoon films, it is also suitable to release your inner child even if you're a senior and enjoy cartoons of this modern age. Who knows, you and your date can reminisce about the old days and compare your favorite cartoon films to this day. You can experience dinner and a movie experience or order pizza and ice cream during the show for an unforgettable Saturday evening date.
If you're not into cartoons, then you can try out a more exciting movie event in Virginia Beach. The Family Great Adventure Movie Series happens on the beach, so you can prepare a blanket under the stars with the soothing ocean waves splashing in the background.
The event takes place weekly for the months of July and August. This move even features a giant inflatable movie screen with a nice surround sound system, allowing you to take your date and watch family-friendly action films right there on the beach.
Stroll the Virginia Beach Boardwalk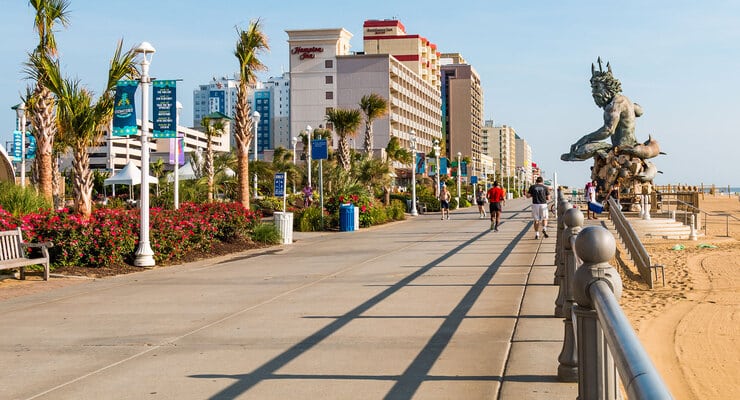 No Virginia Beach date ideas list would be complete without exploring and strolling along the boardwalk. Featuring a 3-mile long, 28-foot wide boardwalk, there's nothing more romantic than walking along the beach and talking and flirting with your date.
You can easily visit a restaurant or bar on one side when you get hungry after a long walk, or just sit on the sand and enjoy a spectacular view of the ocean with your date.
Go to a Concert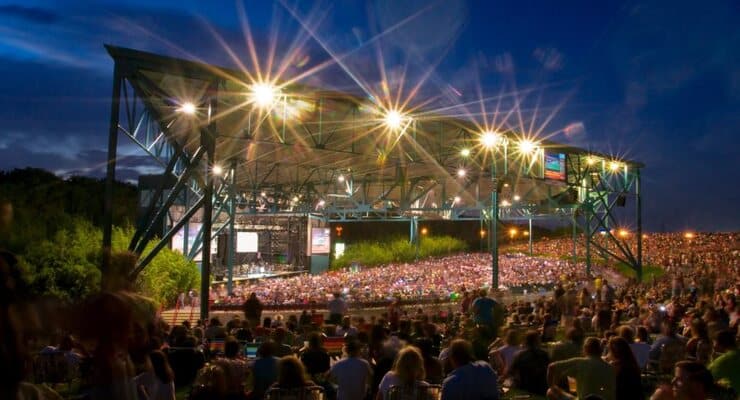 Virginia Beach offers all-year-long concerts, especially at night. You can find like-minded people there or take someone you met on online dating sites and experience both.
There are various concerts you can try. For one, the Live! On Atlantic concert creates a magical and memorable concert atmosphere at the oceanfront, all summer long. It is nightly entertainment throughout the season, starting at 7 pm to 11 pm.
If you want to experience local music acts of all generations and genres, ranging from Motown to blues to rock, try the Ynot Wednesday Concert. This event takes place at the Sandler Center Data from June to August at 5 – 9 in the evening.
Virginia Beach got the sand, sun, and singles. Whether you are enjoying the sun on the beach, spreading out in the park under the stars to enjoy a movie or the tunes, or dining at one of the finest restaurants and bars, Virginia Beach can help you find a date and create the perfect romantic date night.